It's one of those medley posts today with my analysis on how to find a good hairdresser followed by a bit of this and a bit of that. Before I start though I must share some good news. With having a week away I forgot to tell you that my mum-in-law has the all clear after her breast cancer scare. It means we still haven't got to the bottom of her chest pains but at least it's not the thing we dreaded most. Thank you for all of your good wishes, I'm convinced these things help.
In the survey, some people mentioned that I don't always follow up on things that I've said I will and the subject of hair was raised as one. You have a good point on the not following up and I must try to keep my editorial calendar on track. The problem is that with there just being one of me, things spring up and I sometimes move on and lose my thread.
So… hair. There's a reason why I haven't covered my changing hairstyle for a while and that's because it's been an expensive experiment and I wanted to have time to draw some conclusions before I talked about it. Let's go back to the beginning. Long term readers will remember that two years ago I decided to follow the blogger trend and go to George Northwood in London. It was a pleasant experience and I was pleased with the first two cuts they gave me. The chap who was doing my hair explained that he had a long term objective in mind and that I should trust him… which I did.
When I went back for my third cut, it was an important day because I was due to take part in a Jaeger street shoot afterwards. It was one of the first times that I'd been invited to do something like that and so I wanted to look sharp. However my hairdresser insisted that we were on a 'growing out' journey and I had to stick with it. Fresh from the salon, the Jaeger shots looked like this – hello 1988!
I'm never good at having my photo taken by strangers but even so, you can see from my face how unhappy I was. I was going through an odd time anyway. I wasn't feeling myself and some of you will remember that I was on the receiving end of a bit of an unpleasant attack on Mumsnet. I hated every minute of that but actually in the end it did me a huge favour. It made me look at myself and what I was doing. I could have gone one of two ways. I briefly considered giving it all up – blogging and the pressure that comes with it to be 'someone'. However as has happened so many times since, readers on here gave me a virtual hug and a nudge and I pulled myself up by the bootstraps.
Just to recap for new readers, through pure serendipity I then went to stay with an old schoolfriend who is a doctor for a couple of days. We've known each other since we were eleven and she listened to me moaning about not sleeping because I was worrying all of the time and feeling as though I was losing my vim and verve. As she kissed me goodbye, she very matter of factly told me that I was clearly peri-menopausal and needed to see my GP. Which I did. She put me straight onto HRT (and you thought this was a post about hair)!
I know HRT isn't for everyone but it very quickly helped me get back to being the person inside that I always was and thought I'd lost. I've since seen it have the same effect on some of my friends. I remembered who 'I' was and with that, I immediately asked myself why I was letting the George Northwood chap force me into one of their classic lob (long bob) haircuts. Regardless of trend, I have never been a wispy lob kind of person. My hair is naturally straight, I like it to look neat and I don't have the patience to faff about with endless hair tools and styling sprays.
I went back to my nearest good local salon and we made a bit of progress. Here's my hair a year ago, it was better but it still didn't feel like me.
And then in September I was sent the photos from a shoot I'd done with a brand and saw myself like this. The reality of how I was looking versus the person I felt inside still really wasn't correlating.
So, I decided to take firm action. Rather than going for the latest big name hairdresser, I decided to look for someone who specialises in short cuts. If you live near a city, it's easy enough to do this on Google. Just enter the type of cut you're looking for and the city and you often find a journalist or blogger talking about them. You can then look through their pictures and often find the hairdresser on Instagram – that's quite telling because it's where they feature the cuts they're personally most proud of.
My journey took me to Hershesons in London and one hairdresser in particular – Premlee. In his bio he says "I will pinpoint a style for your face shape only seconds after meeting you." And he did. Now at this point I must state that I have had no relationship with Hershesons other than as a normal paying customer and so this is a candid review. He told me it would take two cuts to get it right because there were layers that needed to grow out. This is the day that it was first done in September…
… and this is when he was finally happy with it in December (it's the tearful award winning photo but it's the best one I have of the cut)!
The problem is that it is very expensive and I can only have it done in London which effectively adds a £100 plus train ticket to the cost although I try to coincide it with meetings. So, my solution is to have it done down there every other time. My technically good local hairdresser follows the cut in between. (I can have five haircuts locally for the price of one London one)!
The difference that my hair has made to my everyday confidence is difficult to describe but it works harder than any piece of clothing I wear. To paraphrase Kate Moss's famous saying "no outfit looks as good as a great haircut feels."
As an interesting addendum, I was due to have my hair cut by Premlee last week before the awards. The day came and they rang to say that he was sick and so they had booked me in with someone else. At first I was annoyed but then also slightly relieved because it was one of the younger, cheaper stylists and I told myself that being Hersheson trained, she would be just as good. She wasn't and it's frustrating because I will now have to put up with a (still expensive) substandard cut until June. This is the best 'straight out of the salon' shot for comparing the two.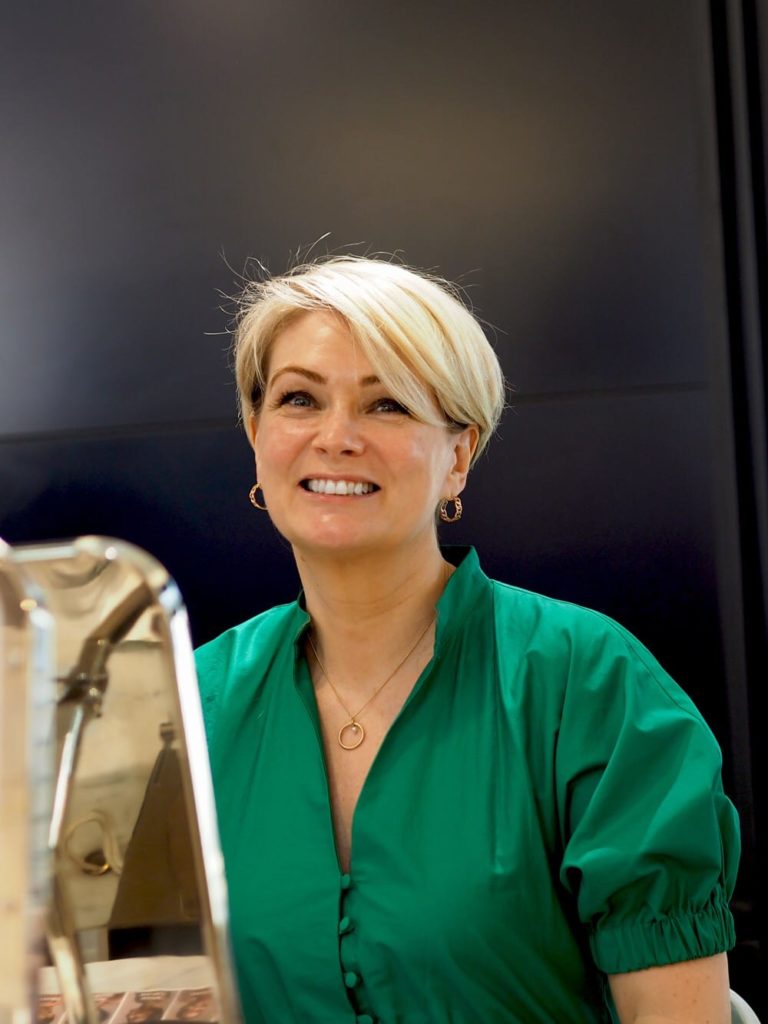 Because I was going to the Awards, I had also booked to have my colour done with Hershesons for the first time. Again I had selected one of the senior stylists in the hope of something amazing happening. The result was fine but nothing special and absolutely not worth the investment. The colour in the teary photo had been done by my local salon and I think it's better at a fraction of the cost.
So you can see why it has taken me so long to feel I could give you an honest assessment and in a way it's good that I had a mediocre experience last week because I now know clearly that Premlee is the man for me and I won't waver from him.
The conclusions I have come to on how to find a good hairdresser are:
Your hair can age you more than any other element of your appearance.
It is absolutely worth apportioning extra budget towards your hair. I take it out of my clothes budget and by balancing alternate cuts with my technically skilled local hairdresser it means that five good London haircuts see me through the year.
I am a passionate supporter of the provinces but hair trends are constantly evolving. I have decided that London is where hairdressers have the maximum opportunity to see the broadest range and highest volume of stylish women and therefore the best London hairdressers are likely to be able to adapt your look most efficiently. If you can possibly make it to London, even if it is just for one transformative restyling cut, do it.
Just because a hairdresser is offering free haircuts to bloggers and therefore getting a lot of social media coverage does not mean that they will do your hair well. You need to think about what suits you – your personal style and the shape of your face. Don't be a sheep like I was with George Northwood.
Don't feel guilty about investing in your hair. If you need to justify it to yourself, cut back on something else. Do your own nails / your own pedicure / skip facials / stop buying takeaway coffees or whatever other area you spend on. Put money in a jar every single night of the week. Other than holidays, I really can't think of a single other luxury that is more worth it.
Recommended hair products
Whilst we're on the subject of hair, I have some hair products that I've been testing to rave about. Last month Marks and Spencer invited me to choose some items from their beauty department to review as part of their Beauty Event. I think that beauty is one of their real hero areas so it was a project I was pleased to be part of. Knowing that I was heading for an expensive colour experiment, I went straight to their hair selection and scanned through the five star recommendations. I've noticed that 'Color Wow' products are even being stocked in some of my favourite high street clothes stores so I was keen to try them.
I opted for the 'Color Security' shampoo and conditioner. The benefit of the shampoo is that it is free from sulphates but also other things like gums and pearlising agents so it is a 'clean' shampoo that won't dull colour. The thing that excited me most about the conditioner is the claim that it doesn't include any of the usual conditioning agents that oxidise colour and turn it brassy which is something that always happens to my hair two weeks after I have my colour done.
Color Wow Shampoo; Color Wow Conditioner
I have also been using the Coconut Cocktail which they say bonds to the hair's outer surface, mimicking the lubricating layer that colour strips away. Its purpose is to restore silkiness. My hair always used to be naturally silky but despite the HRT, it no longer is. The last product that I tested is the Dream Coat sealant (every three washes) to combat humidity – or rather incessant rain where I'm concerned.
I often test beauty products and find myself in the awkward position of saying that I can't review them because I didn't honestly notice any difference. I've been using these hair products for two weeks now and they really have helped.
When I use all of them together, my hair feels as though it has had a conditioning treatment at a salon. I just hope it carries on because I sometimes find that hair products are great for a while but then lose their effect. Maybe because this system has fewer chemical additives, that won't happen. I'll let you know if I repurchase them when I come to the end. In the meantime the Beauty Event is still running here and there are some really good gifts with purchase.
New jeans
I have not yet come to the end of my hunt for a new pair of dark indigo jeans but I do have some other winners to show you. John Lewis noticed the discussions about the And/Or Silverlake jeans in the post I wrote for them (you may remember that so many of you have raved about them that I was hoping to try them on in Manchester but there wasn't an And/Or department). So, they very kindly sent me a pair to review… and you're right, I love them.
They're a straight cut and full length so I've rolled them to make them work with the shoes. The reason I haven't ordered them before is that when I looked at them on the website, I felt the shading at the front of the thighs looked too extreme. However when you put them on, it works its magic. You see because the area at the side of the thighs is slightly darker, it makes your legs look thinner… and longer.
The denim is soft so they are immediately comfortable. In terms of fit, if you're between sizes, size down. I ordered my usual size 29 and they're generous. It may be because I somehow managed to lose weight in London last week – probably because I went for 24 hours without eating over the busy Blog Awards day and night… or maybe a few hours of dancing is the simple secret – wouldn't that be good? Anyway, I'm wearing them today for working from home (actually I've been wearing them nearly all week).
John Lewis really seem to have nailed trouser cuts in their own label ranges – the jeans, culottes and trousers that I've tried have all been exceptional. So John Lewis – if you could just do this cut cropped and in a darker indigo, you'd have the first item for the Parisian chic range that we all want you to develop. Just saying!
Silverlake jeans (g) also available in black; Kitri top; Kelly Green shoes
I'm also wearing a Kitri top. There's been so much fuss about Kitri recently that I thought I ought to order something and try them out. I love the colour of this blouse and of course shirring like this is a huge feature this season – it's coming through everywhere, even on skirts. I know some of you are going to say that it will be a nightmare to iron and you may be right, I haven't tried yet. The only thing that lets this shirt down is the finish on the interior. The fabric at the neckline is not stitched in on the reverse which means that if you don't put it on carefully, it sticks up at the back. I don't know why they haven't thought that through.
As you may have noticed by my sudden love for it, green has hit the high street twelve months after Pantone first suggested it might. This is exactly why I don't get hyped when Pantone release their colours. I have a new pair of simple, well priced block heels in what Avril at ALifeToStyle would call 'Kelly green' (I would previously have called it leprechaun green which Avril may or may not appreciate)! Anyway I was inspired to order them when I saw her wearing green sandals last week. I'm finding they work with everything and isn't it great not having to wear socks? You have a much wider choice in terms of shoe colours because everything goes with bare feet.
Midlife lately
So that's everything for today. I am now heading off for a 'wine and tissues' evening. You see the first of my primary school playground mum friends is due to become an empty nester in September when her youngest goes to uni. He's been having a gap year so she's got used to him being around even though she's known all along that he was saving up to go inter-railing this month.
Anyway we've kept checking in on how she's feeling and she's the stoical type so she's been unmoved… until now. He left last week and when I was in London, another friend texted me with an SOS saying she'd bumped into her and she was feeling low. So, we're going round tonight. We've all known each other's children since their infant days and it's a shock to us all that the youngest ones are starting to fledge. Thanks to the fact that I squeezed in a third child, I'll be the last of the group to be bereft – I hope they won't have run out of wine and sympathy by then! I suspect tonight will be what I call a 'state of the nation' evening when we reflect on where we are right now and what we're going to do about it. Just when you think you have life sussed, it moves on again doesn't it?
I hope you have a lovely weekend. We have snow forecast… for the last weekend in April. It is not helping my patio project mission… or Mr MC's enthusiasm for it!
Retail therapy
House of Fraser have a blackout sale on here which includes different discounts on different brands at different times. I found they had 30% off Oasis and Warehouse yesterday. It's really worth popping over every so often to see what's happening.
Hush spring sale is on – they have included a lot of last summer's pieces and some of those are easier to wear (ie less flowing) than this year's collection so it's worth having a look through.
Finery have 25% off all skirts and trousers here with code SKIRTS20. I think Finery trousers are really good – my top tips:
Disclosure: 'How to find a good hairdresser' is not a sponsored post
Disclaimer: as with the majority of blogs, products featured on Midlifechic sometimes (but not always) include affiliate links. This means that if you choose to make a purchase, you are helping to support the site because a small referral commission may be paid. This contributes towards hosting fees, software costs, site maintenance and other plug-ins. Midlifechic could not exist without these small payments, so every contribution makes a big difference.
2018 posts you may have missed
Working in London – what to wear and The UK Blog Awards
An update on 2018 spectacle trends
Indigo jeans try on and what I've been wearing
Spotlight on John Lewis – a virtual shopping trip
Inspiring thoughts from a style icon
A great weekend break and a new drop from Hush
Trying on my Boden order – keepers and returns
A Spring Smorgasbord – gelato colours
Reasons to be cheerful and outfits of the week
What I've been wearing – and how I carved out an extra day in my week
Thoughts on Mother's Day as your children grow older