Hello, it's good to be back – I feel as though I haven't blogged for ages so I'm going to make up for it with a long post. As you know, I spent a few days in London last week so I thought I'd do a "working in London – what to wear" post and of course tell you all about the UK Blog Awards 2018. By the way none of this trip is sponsored but I'm going to add a few destination links because I was asked to include more 'insider tips' in the reader survey.
Wednesday – a 6am departure and a day of retail
It was an early start to catch the first train to London so excuse my bleary eyes. I hadn't slept because I kept going over and over my presentations in my head. As I was loading the car, Mr MC appeared in his pyjamas to remind me that it was my only chance for an outfit shot so here you have it with a tired looking face.
I had a full day of retail meetings ahead of me in the East End of London with a blogger lunch in the middle and then a drinks party across town in the evening. I was mixing blog work with some retail consultancy projects so I needed to look professional. Despite the chilly start, the forecast for the weather down there was hot so it was definitely a day for bare legs.
Obi belt dress; M&S shoes AW17; Le Pliage
It was a great day and I met six retailers from the top end of the high street. Thanks to the information that you had furnished me with I was really able to build a clear picture of midlifers and also provide some of them with direct feedback that you had given me.
The evening drinks party was for bloggers and I didn't know anyone there so I chatted to a few lovely twenty-somethings with huge followings who were surprisingly unsure of themselves. Despite their freshness and their youth I don't think life's easy for them. By the time I got back to my hotel room I was shattered which was a good thing because it was hot so London had erupted into one big summer party and I would never have slept otherwise.
(As I was there on my own, I was managing my budget and I spent that night at The Marylebone Travelodge. It's a great location but I wouldn't recommend it because the windows are old and single glazed. The noise from Marylebone Road and neighbouring pubs was inescapable).
Thursday – a Selfridges get together and meeting up with Mr MC
On Thursday I had one strategy meeting but not until 11am. It was such a beautiful day that I decided to walk there and I really enjoyed meandering through London on my own. I stopped for breakfast in St Christopher's Place and even had time to read my book in the sunshine for a while.
The meeting went well and then it was back across town to go to a special lunch. I had been invited to a get together of Selfridges fashion and beauty buying teams at The Harcourt and there were people there who I hadn't seen since the very start of my career. Some of them were as scary as ever (you can imagine the aura of the designer room buyers) and others were the same down to earth people they always were.
We had a really good reminisce and there were some of those weird 'small world' moments. I discovered that the eldest is on the same course at the same uni as the beauty buyer's daughter. We were pregnant together and so it feels strangely circular. I was then chatting to one of the menswear buyers and discovered that not only had we gone to the same grammar school a few years apart but we also came from the same tiny village and she was taught by my mum at infant school. We worked together for nine years and were obviously so absorbed in our London lives that we never connected our past selves!
Anyway Mr MC arrived to meet me as I left and it was good to see him. I spend so much time in London alone that it was a real treat to have him join me.
Checked Jacket (gSS18); Stitch detail trousers; Massimo Dutti blouse SS15; Sézane sandals SS17 (this year's version); Finery earrings AW17
I just want to say what a great outfit this is for anyone who travels for business. I wore it all day, sitting, standing, travelling on the tube and there wasn't a single crease in either the jacket or the trousers when I finally took them off at 10.30pm.
(We stayed for two nights at The Montagu Place Hotel in Marylebone. It's a boutique townhouse and generally expensive but if you book well in advance as I did, there are some great deals available. I got mine through ebookers which often has the best offers in London ).
Friday – one last meeting and a day of prep
So here I am on Friday in a great value new dress for another glorious day (I had to do some emergency shopping because it was so hot)! We had a busy day ahead ending with the UK Blog Awards in the evening. We started with breakfast at Hush in Mayfair and it was like sitting at Chelsea Flower Show. If I'd known that this was the last meal I was going to have for 24 hours I would have eaten morethan a piece of toast with avocado though!
Basic cat eye sunglasses; Claudia Bradby necklace (gSS17); Elicce rings (gSS17)
I headed off for one more meeting which left Mr MC at leisure. He had the whole of London at his feet and where do you think he ended up? At the Apple Store doing a series of sketching tutorials…
I have one little anecdote to share with you from the meeting. The retailer told me that they had shown the post I wrote about Boden (or rather your response to it) in their management team meeting. As a result it is now included as part of a training session. They call it 'how not to get the midlife marketplace on side!'
Awards prep
After my meeting, I went to have my hair coloured and cut. In the survey, a few of you asked me to talk more about hair so I'm going to include that in Friday's post. Moving on, I'd intended to paint my nails the night before but Mr MC suggested I treat myself to a manicure instead. I always forget that I'm not very good at this sort of pampering stuff and you can see from my face that I was losing the will to live when she told me it was going to take an hour. Meanwhile Mr MC was skipping off for a pint in the sunshine at the pub next door.
I still can't understand how it took so long but I was finally released and with hair and nails done, I moved on to the final stop which I was looking forward to.
Green midi dress; Sezane sandals SS17 (this year's version, TTS)
As a treat for the Awards, John Lewis had invited me to choose one of their beauty partners to do my make-up. Experience has taught me that Bobbi Brown gives me the best result. I don't like very heavy make-up and they seem to know how to enhance you rather than make you look like an older, more dated version of yourself.
Starting with a bare face…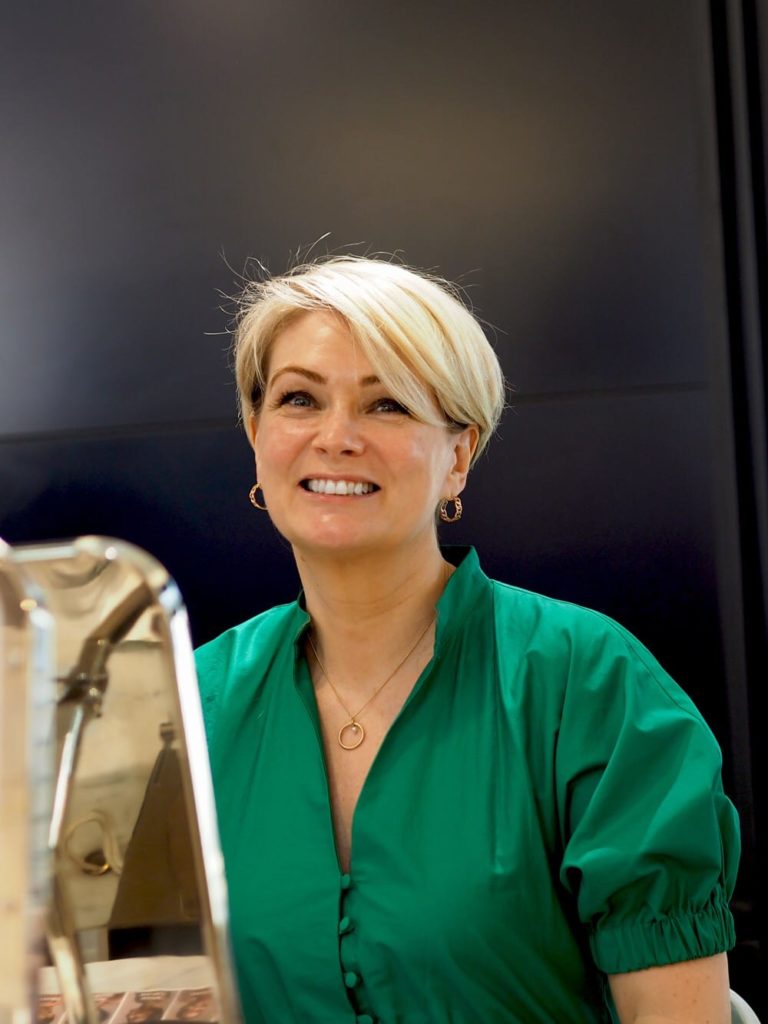 … the make-up artist did one eye to see what I thought. You can see that she has lined the lashline with black and then used smoky browns for the rest of the lid.
I liked it so she did the other eye and then once more asked me for feedback. I have to point out what a radically different experience it was to the one I had at the Selfridges Bobbi Brown counter last year. You may remember that I was surprised by their snooty and disengaging attitude whereas at John Lewis, it was friendly and inclusive.
We had a little chat and she encouraged me to let her do one more thing to make my eyes 'pop.' That was 'tightlining.' She explained that adding liner to the waterline at the bottom of the eye can make your eyes look smaller. However if you do it to the inside of the top lid, they look bigger. That's what she's working on in this picture.
When my eyes were done, she finished the rest of my face, explaining that she works that way round because otherwise the eye make-up drops specks on your foundation. She even dusted highlighter on the back of my neck so that it would gleam.
The end result…
Ta dah! We kept the lips nude so that I could try them with my dress and change them for red if I needed to.
I am not a watcher of YouTube beauty videos and so I would never have managed this level of application on my own. It made me feel fantastic.
(Thank you to John Lewis for my make-over. It would usually have cost £30 which is redeemable against any purchase you make and you don't usually need an appointment).
The UK Blog Awards
And so all we had to do was go back to our hotel around the corner, freshen up and get changed. I was offered lots of dresses by different brands for the Awards ceremony but I knew what I wanted to wear. I never have and never will love a dress as much as this one. You saw me wearing it for my 50th birthday meal in Marrakech and because I wasn't intending to enter the Blog Awards, I didn't think I'd have another opportunity.
Gold sequin gown (gAW17); gold sequin clutch
The sequins are stitched onto a stretchy fabric which makes it the most comfortable dress you can imagine wearing. You don't need support underwear, it skims and clings just where it needs to.
We decided to stop for a quick drink before finding a taxi and unusually for London, everyone was incredibly friendly, asking us where we were going and wishing me luck.
A man popped out to explain that he was a carer for a lady who had sent him to find out about my dress so I went in to have a chat with her. I didn't get very far with explaining what a blog was but she was excited about the idea of an Awards night.
Time was ticking and we needed to find a cab quickly so this is the only seated shot I have to show the clever ruching over the midriff that disguises bulges.
Feather necklace; Gold wave hoop earrings
It was chaos around Grosvenor Square because the Commonwealth Heads of Government meetings had just ended and they were all on their way to Claridges so we jumped out there. I think everyone assumed I was famous and I was being photographed from all sides. This very game security chap jumped in as my bodyguard… when you find yourself in an unusual moment like that, it's best just to own it!
And so we made it to The Marriott and immediately spotted Katya Wildman, designer of my dress who had come along in support. I didn't tell her I was wearing it until the day before, so it was lovely to give her a surprise. You'll notice that she's wearing one of her own dresses too.
L-R – Rowena from Revival Retro Boutique; me; Katya from Bombshell London
And by the time we'd registered, everyone was being called through so we had to go straight to the auditorium and find a seat.
The Over 40 Collective disbanded a little while ago so I wasn't there as part of a group this year. However over 40 bloggers tend to flock together and it was lovely to bump into The Country Wives who are on the page next to me in the Woman and Home 50 over 50 Awards this month. We hadn't met before so it was a chance to get to know each other.
On my right is Carina who works at the agency Awin and is helping me to spread my midlife message amongst her retail clients. I was incredibly touched that she'd given up her Friday evening to come along and support me.
Next to Carina is Rachel from The Mutton Club – I'll talk more about her in a minute and in front of me was Megan Taylor who came joint runner up with me last year. Since then we've kept in touch via social media and I have decided that she is my Blogdaughter. She is young and lovely and starting her married life in Thames Ditton – just like I did. I would say her blog is ageless and one you might enjoy following.
So before we knew it, the Awards were rolling. My category (Fashion and Beauty) was the first on our row to come up and as you probably know by now I was unsuccessful. Not even a commendation this year and it was the same for Megan. However congratulations go to Catherine from NotDressedAsLamb who won for the second year running. That's an amazing achievement, I don't think it's been done before.
And so it went on for the rest of us… CountryWives… nada, MuttonClub… nada, Megan's husband who was also in the running with his blog Elevate Sport… nada. However Megan did get a commendation for Social Media and Michelle from BarefacedChic was highly commended for Lifestyle so that raised our spirits.
As we were walking out of the auditorium, I got talking to Rachel from The Mutton Club and she instantly had me gripped. Within minutes we'd disappeared down a rabbit hole of intense conversation which was based around our differing perspectives on midlife. I explained that I'm not keen on the analogy with mutton – Rachel strongly argued her standpoint. And on we went, so much so that we had to go and find a quiet corner to debate in. Our husbands left us to it (fortunately they hit it off too) and when we came up for air, a good 40 minutes had passed.
It took me back to the intense but good natured debates I used to have in my student days and since then I've been wondering why this kind of conversation stops. Maybe it's because when we have young children our brains are frazzled and it's hard to maintain a conversation without being interrupted. I guess you just get out of practice. I felt the same brain-sparking joy when I spent an evening with Avril from ALifeToStyle last year.
My only regret is that by this time, Catherine from NotDressedAsLamb had left and so had Michelle from BarefacedChic so I completely missed them didn't have a chance to congratulate them – or catch up for a chat. Anyway to both of them, well done! It's so good that the over 40s were represented in the successes.
Never being ones to say no to a party, Mr MC and I were just getting into our groove.
I wanted to show you this lady on the left because she was such a chic midlifer. She was wearing a tuxedo suit with statement earrings and a lacey bra. It was superbly minimalistic and she pulled it off with a sphinx-like smile.
And when we'd exhausted everything The Marriott had to offer, we all went on to the after party at The Cafe de Paris and danced until I don't know what time.
Feedback on the Awards Ceremony
The UK Blog Awards was in new hands this year and they've asked for feedback because a lot of bloggers have complained about the event. This year's presenters were awful which meant the ceremony fell flat. I'd also say that if they want this event to be taken seriously beyond the blogging world (i.e amongst retailers, potential sponsors and consumers who at the moment haven't even heard of it), next year they need to select a head judge with gravitas beyond the blogging and media industry.
However as for the rest of it, I think it's best to approach an Awards Ceremony in the same way that you would approach any other event or even life itself. It's a case of remembering that you are the catalyst. You will get out of it what you put in. It's never worth expecting fun to be laid on because you will inevitably be disappointed.
We were determined to enjoy ourselves and we had a ball. Dancing in a West End club wearing a gold sequinned dress with a bunch of people young enough to be my sons and daughters is a 50 year old moment that I will treasure for the rest of my life.
Saturday – the morning after
However a night of dancing comes with a price and I paid it the next morning when I woke up with both sore feet and a sore head. As some of you saw when I posted on Instagram, I had an overwhelming feeling that I'd let people down. So many people had been rooting for me and yet I now had to face them all and tell them I'd actually come out of it worse than the year before.
So I gritted my teeth, posted the result and within minutes a huge groundswell of support came rushing in. We sat in a café in Marylebone reading all of the Instagram comments, along with rallying texts from the boys and my friends at home. The main message was 'in the grand scheme of what you're doing, this really doesn't matter.' And you're right it doesn't, although of course you don't enter these things without hoping to win or at least receive a commendation.
The people whose opinions matter most are the people that I'm blogging for and if you're reading, that's you. So thank you for having my back on Saturday morning. And of course the great thing was that lots of you identified yourselves as readers of Midlifechic rather than just Instagram followers so I followed you back. Now my feed is filled with your varying posts and you make me smile every time I flick over to it.
Bonjour t-shirt (fabulous quality and value, size down); Indigo peg trousers (an incredibly flattering fit, true to size); Sézane sandals SS17 (this year's version); Basic cat eye sunglasses
My week in conclusion
Regardless of the Blog Awards, I think the most important thing that I am taking from my week is the evidence that the attitude to midlife women is changing fast. If you're a long term reader, you'll remember my frustrations with greywashing two years ago when glamorous older models with silver hair were being used to represent everyone over 40.
For the first time I can say with certainty that midlifers are now clearly being identified as a group by retailers. We are no longer invisible, in fact we're hot and they want us… or at least our spend. It's good to see that two of the glossies: Woman and Home and Good Housekeeping have now stopped chasing younger readers and are dedicating themselves to the over 40s.
I love the fact that the bloggersphere is growing closer, it means we can work together. A few of the younger bloggers that I met last week were interested in the ageless approach to style. Won't it be great if our next move can be to step away from 'over 40' as a definition too? The next goal for me (and it isn't time for this yet) would be to see women united by their attitude and approach to life rather than just the number of years that they've lived.
For now we need to maintain the momentum by keeping doing what we're doing, showing our vibrant faces, manifesting our meaningful lives and keeping our voices strong and clear. There has never been a better time to be a midlife woman – just remember we can be anything we want to be – if we set our minds to it.
Disclosure: Working in London – what to wear is not a sponsored post
Disclaimer: as with the majority of blogs, products featured on Midlifechic sometimes (but not always) include affiliate links. This means that if you choose to make a purchase, you are helping to support the site because a small referral commission may be paid. This contributes towards hosting fees, software costs, site maintenance and other plug-ins. Midlifechic could not exist without these small payments, so every contribution makes a big difference.
2018 posts you may have missed
An update on 2018 spectacle trends
Indigo jeans try on and what I've been wearing
Spotlight on John Lewis – a virtual shopping trip
Inspiring thoughts from a style icon
A great weekend break and a new drop from Hush
Trying on my Boden order – keepers and returns
A Spring Smorgasbord – gelato colours
Reasons to be cheerful and outfits of the week
What I've been wearing – and how I carved out an extra day in my week
Thoughts on Mother's Day as your children grow older
5 things to do in the Lake District when the weather's bad
Spotlight on Inès de La Fressange at Uniqlo
Midlife adventures – Transylvania review
Some thoughts about our midlife Valentines
How to keep your complexion glowing in midlife