Let me take you to Marrakech for a blast of warmth and downtime… it's a long post but there's a lot to say. As you know, for the Christmas before last Mr MC gave me a jar of money and a promise of time away together in 2018. We'd hoped to go somewhere in October but with the sad news of his brother, it wasn't to be. And so we made a plan to head off for our wedding anniversary in February. I wanted only one thing, sunshine – and so in November I booked a few days in Marrakech. It's a place we've been to a few times before which meant our agenda could be low key and relaxed. I took you round the sights with the boys in this post so this isn't a travel guide, it's more about a return to Marrakech – what I packed (and what we did).
Tuesday – departure and arrival
Here we are at the airport ready to depart. I'm regularly asked for recommendations of outfits to travel in so I'm going to take you through what I was wearing. I've mentioned this jumper to you a few times and I bought it as soon as I saw it. I ordered the joggers at the same time because they have such rave reviews that I've often wondered about them. I am now one of the ravers – they're such a flattering cut with their high shirred waist and zipped ankles. Plus of course they're incredibly comfortable.
Jumper; Joggers; Adidas Originals 80s trainers
Trainers are something I don't often cover on Midlifechic but they're new too. It's taken me a long time to find trainers that I like. The eldest bought me a pair of Nike Vapormax last year and I love them, the only problem is that the flyknit soaks up any dirt from wet city puddles and so I wanted something I could wipe clean. I have a pair of Stan Smiths that I bought when everyone was wearing them but I never liked the clumpy toebox. I was looking for something with a cleaner, sleeker profile. So, I consulted our resident Sneakerhead who said there was only one pair I should buy and they were Adidas Originals.
He pointed out that they're currently the most copied trainer on the market and he's right. Even brands like Hush have been inspired by it and are charging almost twice as much as Adidas for what you could say was a dupe. So, I went for the reissue of the original tennis shoe but I chose the limited TfL (Transport for London) edition. There are a few different options, I wanted the Jubilee line because it was my commute for a long time. It's twinned with the Piccadilly so it it has grey and blue piping and decals at the back. Oh and twin laces, one with a silver lace end and the other with blue – a nice little detail. I paid full price for mine but I've found some in the sale now – typical!
Back to the journey. The sun was just setting as we stepped off the plane and it was warm but by the time we'd unpacked it was chilly so I was glad I'd brought layers. I'd packed a bit of everything because the weather in Marrakech has been as unpredictable as ours recently with lots of cold and rainy days.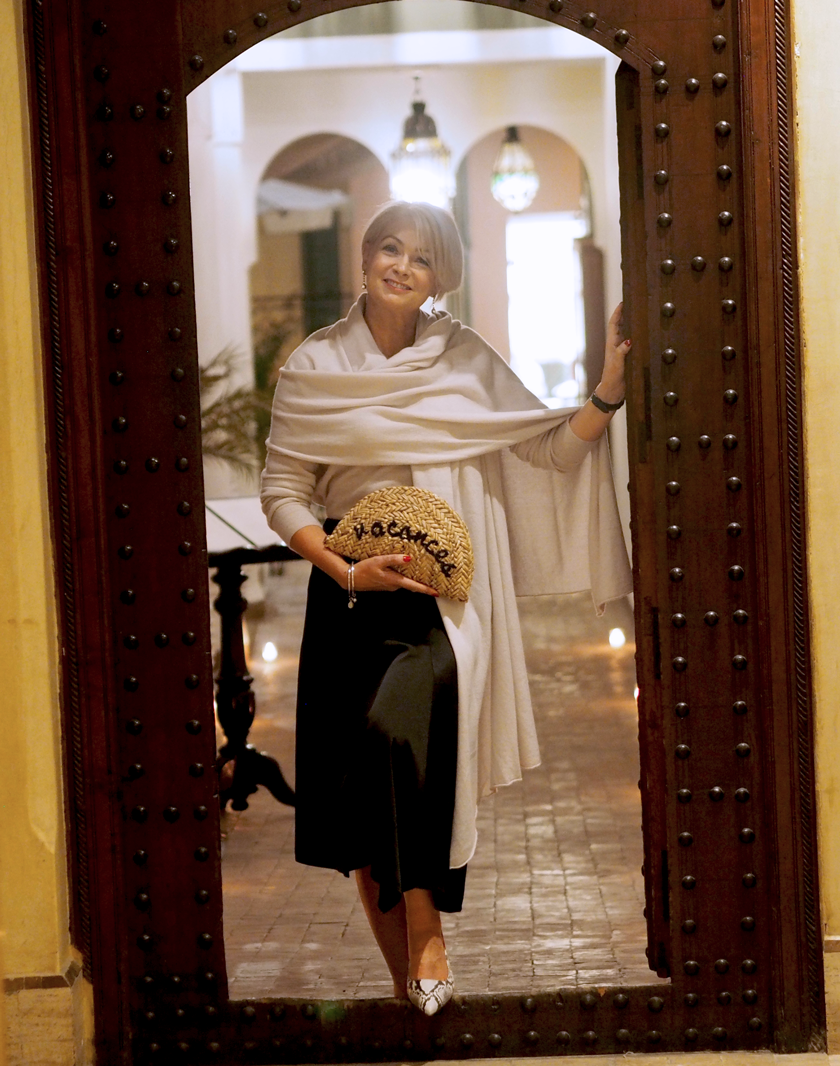 Cashmere mix jumper (gAW18 now in the sale); Satin asymmetric skirt (gAW18 now in the sale); Shoes; Whistles Clutch (past season)
The jumper is in the sale and so is the skirt – in fact it's now only £18! I've included another shot to show you the asymmetric hem (and the lovely candlelit walkway to the restaurant).
Cashmere mix jumper (gAW18 now in the sale); Satin asymmetric skirt (gAW18 now in the sale); Shoes; Whistles Clutch (past season)
It was late so we ate at our hotel which was good but a bit overpriced. We went to bed looking forward to not having to get up with the boys the next morning. At 6am however we discovered that the stone stairway next to our (very beautiful) room led directly to the cleaners' store so it was noisy and, regretfully, we were awake.
Wednesday – the Jardin Majorelle
Luckily there was a good coffee maker in the room so we relaxed on the balcony, listening to the birds. I'm just going to talk about my shoes because you'll see me wearing them repeatedly in these shots and I love them. You've probably gathered that snake print is going to be even bigger for summer than it was for autumn. The trouble with the resurgence of a classic is that it can look very… classic. If you're over 40 it probably needs a little twist to bring it up to date. As soon as I saw the flash of red strap on these I bought them, they also have a very low black kitten heel which adds more contrast. They're true to size, comfortable, they go with everything and I suspect that they'll sell out quickly when the sun starts to shine.
My breton is a new buy from a small boutique – it has 'joie de vivre' lightly embroidered on it in gold which you can't quite see in this picture. The jeans are the ones I've been raving about since last year, I wear them endlessly.
Joie de Vivre Breton (support small brands); Jeans (gSS18); Shoes
Our hotel (Les Jardins de la Medina) was one we found last time we were in Marrakech with the boys. It's plush and yet the lovely thing about it is that it's still within the Medina (the old walled town). Most of the larger hotels are outside the walls where there is a more western atmosphere. Having stayed in a few different places in Marrakech we've come to the conclusion that it's good to have somewhere that's in the Medina but has space to retreat to. A lot of the boutique riads are lovely but they're very small and so when you return after a day in the craziness of the city, you're pretty much confined to your room. We like to have gardens that we can sit in – and a pool's nice too. We tend to walk everywhere and these are the streets outside the hotel.
On our first morning we set off for the Jardin Majorelle, we've been there before but last time we only had an hour before our flight home so we wanted to linger a little longer. And here we are arriving – the ever patient Mr MC is being a walking wardrobe. You see when I met up with the team at John Lewis & Partners a couple of weeks ago, I mentioned that I was trying to find a cobalt dress to shoot in these gardens but I couldn't find one in stock anywhere. They had some due to arrive so they offered to lend me a press sample… and that's what Mr MC is carrying. I was so worried about getting it dirty that I didn't dare wear it there!
I went off to get changed leaving him with some time to take the kind of photos that he really enjoys – without an opinionated moving subject! This is the hue that the Jardin Majorelle is famous for and you can see why I was looking for a dress…
… Jacques Majorelle was a painter with a particular passion for cacti…
… as well as colour.
So here we have the blue dress picture! Actually it was almost impossible to get. It's the first time I've been somewhere like this in the era of peak Instagram. Almost everybody in the garden seemed to be looking at it through a lens and there was a particularly hard to like group of 20-something girls (English I'm afraid) going around talking loudly about the 'money shots'! So, I got my picture and we wandered on to a quieter part of the garden.
Linen shirt dress (press sample now returned); snake slingbacks; Necklace (gAW18); Silver geo hoops (gSS16); Whistles clutch SS18
Clearly this isn't the place for 'money shots' because we had it all to ourselves so Mr MC suggested I try to be a proper Instagrammer and do the 'penny on the floor' pose that he'd been reading about. You have to focus on a spot in front of you and look wistful – I had a go…
Linen shirt dress (press sample now returned); snake slingbacks; Necklace (gAW18); Silver geo hoops (gSS16); Whistles clutch SS18
but… I can never take these things seriously so we gave up on that.
Linen shirt dress (press sample now returned); snake slingbacks; Necklace (gAW18); Silver geo hoops (gSS16); Whistles clutch SS18
I will just say that this is a lovely shirtdress, 100% linen and absolutely perfect for a summer day like this. With shaped hems and side splits it's an easy breezy style and it's now in stock as part of the early drop of the SS19 John Lewis & Partners range. Also available in yellow or black, it's quite generous so if you're between sizes, size down. And this is one of the money shot spots that the Instagrammers were so excited about!
Linen shirt dress (press sample now returned); snake slingbacks; Necklace (gAW18); Silver geo hoops (gSS16); Whistles clutch SS18
Even though the gardens were busy, the pretty Majorelle cafe was surprisingly quiet. We sat for a while and drank tea. Mr MC had mint, I had cinnamon and we had one of those surprising conversations when you discover something new about the person you've been with for so many years. You see I have an aversion to fresh mint and he loves it. "It reminds me of my childhood," we both said at the same time.
We had very different upbringings and sometimes mine seems better, sometimes his. I don't like mint because it reminds me of being sent out to play in the garden during the long summer holidays while my mum was preparing lessons for the next term. I wasn't allowed to go past the gate so I was always on my own and the mint patch was beneath the kitchen window. I used to squat there trying to work out whether she was still engrossed in her work or coming to the end when I'd be allowed back in. The smell of fresh mint reminds me of being lonely.
Mr MC on the other hand was the youngest of a big band of brothers and they too were shooed out every day in the summer. His mint patch was beside the garden shed and they had a game that involved climbing up onto the roof and then jumping off to land in the mint. Any day when his brothers were playing a game other than his hated football was a happy one for him so the smell of mint reminds him of simple joy.
(by the way he's aereating the tea – it's how it's poured in Morocco!)
We moved on and as we're on the subject of happy places, I found one. In fact we had one each because there was an art shop opposite.
Joie de Vivre Breton (support small brands); Jeans (gSS18); Adidas Originals 80s trainers
We headed back to our hotel hoping for an hour by the pool but every bed was occupied either by a person or a strategically placed book (we'd noticed at breakfast that we were the only English residents, everyone else was either French or German and apologies for the cultural cliché but we realised that there was a closet 'sun bed reservation' system that started at dawn). So, instead we went up to the roof and sat for a while looking out at the Atlas mountains as we thought about where to go for dinner.
Mr MC was itching to get into the souk and it was an easy fifteen minute walk from the hotel. I soon realised that wearing a t-shirt with Bonjour emblazoned across my chest wasn't the best way to avoid the attentions of the stallholders! Luckily February is quiet in Marrakech and so there was less hassle than usual.
Oasis t-shirt SS18; Jeans (gSS18); Nike Air trainers; Midlifechic portrait tote – more stock arriving soon
We ended up at Nomad which is a café at the centre of the souk. It's a bit overhyped and overrated but still a great place to watch the sun set over the hustle and bustle below. We wondered what was going on when there was a sudden lemming-like surge towards the edge of the roof… everyone was racing to film themselves as the sun dipped below the horizon for their Instagram Stories. It's a strange new world we're living in, it was like a scene from Black Mirror. Nomad cleverly places branded hats around the place for photos… they need some with branding on the inside of the brim for midlife women whose chins aren't as firm as they used to be though (note the sunset in my sunglasses – the youth know nothing!).
Oasis t-shirt (SS18); Necklace (gAW18); Earrings (gSS16); Watch (gSS18)
Mr MC's attempt at blending in with the hipster crowd – how the boys would have cringed!
Thursday – a day by the pool
I was determined to spend the next day by the pool. We were woken at 6am by our cleaner alarm clock and I was aware of Mr MC crashing around the room – he was on a mission to bag a sunbed. I was still feeling slightly bewitched by the sight of warm sunshine. As you know I'm not a winter person and I could feel myself starting to unfurl.
Swimsuit (gSS19); Sarong (gSS19); Sandals (gSS18); Silver and pearl bracelets (gSS16); Necklace (gAW18); Silver geo hoops (gSS16)
So this is how I spent the morning. I was reading Adele which has caused a lot of hoo-ha but my verdict is that it's been a PR exercise – I'd give it 3 out of 5. When I finished it, I moved on to You Let Me In – now that is unputdownable. It's a light read but really well written, so much so that I've now bought all of her books and I'm enjoying Last Seen even more.
Swimsuit (gSS19); Sarong (gSS19); Sandals (gSS18); Silver and pearl bracelets (gSS16); Necklace (gAW18); Silver geo hoops (gSS16)
And this… THIS was the moment I'd been waiting for. Lunch with wine in the sunshine on a February weekday.
I'm not mad about the dinner menu at Les Jardins de la Medina but the lunches are superb – this was a hot camembert salad, even the peaches were grilled…
… and these were minted lamb kebabs (mint again…)
We spent a day here with the boys when we brought them and they loved the tortoise who pops out at lunchtime so we sent them a photo because we knew they'd be sitting having their packed lunches at school. He's eating some of our bread…
So let me tell you about this fabulous swimsuit that was sent to me by small brand Aspiga. It's perfect for a city break because it's reversible – if you turn it the other way out you have a beautiful solid blue suit. It comes up small though – I'm wearing a medium and it was a bit short in the body, if I pulled it up further it revealed a bit too much from behind. I'd say that a medium is a size 10, they're out of stock in the large (size 12) at the moment but I if they come back in I'll buy one. It's not an economy option but you are getting two very high quality suits in one. And, as you've seen in the picture above, there's a beautiful matching skirt with a dipped hem. I heard a trio of French women discussing it as I was sitting by the pool and it was clearly a hit (thank goodness).
Swimsuit (gSS19); Silver and pearl bracelets (gSS16); Necklace (gAW18); Silver geo hoops (gSS16)
So, having had a relaxing day, we decided to go out for cocktails at one of our favourite places, KosyBar which was an easy walk from our hotel. They play great Ibiza-chill style music and the sun sets behind a rooftop where storks nest which is such a lovely thing to see.
M&S tuxedo (gAW18); Hush silk cami (AW16); Velour jeans; Shoes; Earrings; Midlifechic gold clutch (more stock arriving soon)
We were surprised by how quiet it was – usually you have to queue and vie for a table, especially one overlooking the square. February really is a good time to visit Marrakech.
M&S tuxedo (gAW18); Hush silk cami (AW16); Gold coin hoop Earrings; Star necklace; Midlifechic gold clutch (more stock arriving soon)
As we relaxed over drinks we noticed these boys playing in the square below on a pirate ship imagined from a rubbish bin. They were wheeling it across the square with sticks for swords in a pretend battle with another one which you can just see in the edge of the shot on the left. It looked as if that was left to two little brothers who couldn't keep up. "That was always me" said Mr MC wistfully.
Friday – the souk
The next morning Mr MC did his sunbed dash again and on the way back from breakfast I slipped onto it, wondering if I might entice him to relax for another day. As you can see he was having none of it, the souk was on his agenda and he wasn't for turning.
I realised that the thing he loves about it is the sense of self-sufficiency. The narrow streets are lined with tiny businesses and in each one somebody is busy fixing or making. Outside people sit with baskets of things they've grown, just a few peppers perhaps but if they sell them all, they have enough for their family for another day. The thought of living like that is daunting to me but Mr MC with his skilled hands and minimalist mind finds it liberating.
We found a fabulous kaftan shop where I spent some time. These cost £75 though – and that was after some negotiation, the embroidery was beautiful but even so…
Here's a picture as we emerged out of the gloom into the sunshine -can you feel my relief? I like the souk for an hour or so but Mr MC enjoys it for far longer than that…
T-shirt; Whistles blazer SS18; Jeans (gSS18); Adidas Originals 80s trainers; Necklace (gAW18); Silver geo hoops (gSS16)
… there was even a small dance of joy when we got back into the grounds of the hotel! The t-shirt is another one I bought for the holiday (luckily as the Moroccans don't drink wine they didn't really understand it). It's from a small brand again, I'm trying to buy things from little businesses when I can. Do I recommend it? It depends. If you like the washed out vintage look then yes. It's a very thin cotton in an off-white that looks as though you've had it forever. I guess it's good for people who like ripped jeans and distressed Golden Goose trainers. It was too much hassle to return it and I like the neckline and the typeface so I will wear it, especially in the summer when I have a tan. My advice if you're ordering one is to size down – I'm wearing a medium and I should have gone for a small because a neater fit would have been better for me.
T-shirt; Whistles blazer SS18; Jeans (gSS18); Adidas Originals 80s trainers; Necklace (gAW18); Silver geo hoops (gSS16)
Are you still with me? You deserve a medal. We've made it to the last evening when the hotel put on a cocktail party for guests. It was the perfect occasion for this dress which has my favourite colour clash of all, pink and orange. It's quite unstructured with a drawstring waist and a dipped hem; the simplicity of the design underplays the boldness of the colours.
Dress (gSS19); Snake slingbacks; Gold clutch (new stock arriving soon at Midlifechic)
The cocktail party was very Ambassador's Reception (but without the Ferrero Rocher). Clusters of well dressed Europeans were making polite conversation, trying to overlook the fact that an hour earlier they'd all been by the pool wearing very little – and of course there were still simmering micro-aggressions re the sunbeds. It was a bit like walking into a tense theatre set.
I sidled off to a corner table with a glass of wine. Behind the polite smile I was thinking that we might want to adjust our agenda for the evening.
Brexit was, I'm afraid, the only solution! My dilemma was that if I went out in what I was wearing we'd have to call a taxi at reception. I didn't want to offend anyone so I quickly went back to the room to change so that we could leave on foot. It sounds a bit Mission Impossible but it was a lovely event, it just wasn't where we wanted to be on our last night. We found a good Moroccan restaurant and had a great meal…
… and then to our surprise, the dancing began. For some reason I'm always the one they pick on for things like this. There was no way out of it so…
Cashmere mix jumper (gAW18 now in the sale); Jeans
(Mr MC is clearly laughing so much at my ululations that the camera's shaking!)
…and on it went!
Saturday – a new direction?
And so the final (6am) morning was our last. We had a night flight so we decided to split the day 50:50 – a morning in the city and an afternoon by the pool. John Lewis & Partners lent me this bag for the trip, a handy little crossbody…
Whistles blazer (SS18); T-shirt; Jeans (gSS18); Nike Air Vapormax Trainers; Crossbody bag (press sample now returned); Ray-Bans (currently on offer)
…that rather magically converts into a belted bag to wear round your waist. If you added extra holes (or are very skinny) you could wear it as a belt round your jeans. It has lots of pockets, it's a great price and it's also available in teal, jade green or black.
Whistles blazer (SS18); T-shirt; Jeans (gSS18); Nike Air Vapormax Trainers; Crossbody bag (press sample now returned); Ray-Bans (currently on offer)
A few days earlier we'd found a basket company that supports women in local villages. They make baskets by hand as piece work and are fairly paid enabling them to operate from home as they bring up their children. We wanted to make some checks and by our last day we were happy enough to go back and commission some ideas I'd had for Midlifechic Boutique. So, hopefully it will all go to plan and samples will arrive soon. I was outraged by the prices that were being charged for straw bags last year and seeing as straw is still on trend this summer, I'm hoping to be able to bring you cool beach bags and clutches at a reasonable price that also support women's enterprise in Morocco. Here I was specifying what I wanted – if we build enough business, we'll be able to deal with the women directly.
The younger girls make these pompoms and tassels after school – their mothers insist that education comes first.
So you can imagine the afternoon – pool, reading, lunch, wine… and then home to the boys who amazingly had kept the house very tidy and the dishwasher stacked. It was another lovely break and I feel very lucky. It gave me faith that warm sunshine is still out there, we just can't quite feel it in the UK at the moment. But the long, balmy days of wine and conversation are on their way… it won't be long now.
This last (and not particularly attractive) picture sums it all up. The boys always tell us we look old and confused when we send them selfies (which we do in case they're missing us – pah!). Anyway, this one captured the spirit of it all. Thank you Mr MC for my 2017 Christmas present… a money and time jar is a gift that I'll treasure any time!
Disclosure: 'A return to Marrakech – what I packed' is not a sponsored post. All travel was at our own cost and no discount was given. Gifted clothes are marked with a 'g', all other clothes have been paid for personally.
Recent posts you may have missed
How to find the right bra for your breast shape
Pop of colour outfit updates SS19
How to build a capsule wardrobe part 6 – the summary
How to build a capsule wardrobe part 5 – body shape and silhouette
How to build a capsule wardrobe part 4 – defining your style icon
How to build a capsule wardrobe part 3 – colour and texture
How to build a capsule wardrobe part 2 – defining your personal look
How to build a capsule wardrobe part 1 – wardrobe reality check
New year, new plans at Midlifechic
Sale prepping – my best high street winter buys
Disclaimer: as with the majority of blogs, products featured on Midlifechic sometimes (but not always) include affiliate links. This means that if you choose to make a purchase, you are helping to support the site because a small referral commission may be paid. This contributes towards hosting fees, software costs, site maintenance and other plug-ins. Midlifechic could not exist without these small payments, so every contribution makes a big difference.