Hello, I'm back – I'll tell you all about our break on Friday when I've hopefully found time to go through the photos (although you can see a little glimpse above). In the meantime I've been wanting to write about how to find the right bra for your breast shape for ages. It seems important to do it now while the capsule wardrobe series is still in our minds. After all there's no point in moving on to new season clothes if your underpinnings aren't right.
I started putting this post together last summer when I went to a lingerie industry event where I was properly measured for the first time in years. I discovered that I was a walking cliché with a drawerful of bras that were the wrong band and cup size. I'd never really had a bra that fit me properly and I'd decided that I must just be such an unusual shape that it would always be the case. So when I was brought something in my new formulation, I couldn't believe the effect it had on my whole silhouette. It made me look younger and as if I'd lost about a stone in weight.
As you can imagine I was intrigued and so I took the opportunity to grill the fitters about their skills. With just a glance at my form they'd gauged what kind of bra I needed and in what size. It turns out that measuring is only part of the bra-fitting journey – you also need to define your breast shape. You see it's the shape of your breasts that dictates what kind of bra will work for you – and which you should avoid.
How to find the right bra for your breast shape
Most women fit into one of these categories, have a look at the pictures and then I'll expand on them below:
Slender: narrow in width, these breasts can hang as they age. Look for a balcony or full cup bra for support.
Asymmetric: it's very common to have one breast bigger than the other. Bras with stretch can help because they expand to fit one and shrink to the other. Alternatively opt for a moulded cup and add a silicone booster to one side to even things out.
Athletic: pert with less volume at the top, a wide base and prominent ribs. Full cup and balcony bras are likely to gape at the top so look for plunge and push-up bras.
Pendulous: all that is needed is good support. Focus on a wide, well fitting band, strong straps and a full cup or balcony.
Bell: full at the bottom and narrower at the top; balcony and half cup styles work well for this shape. Opt for plunge if maximum cleavage is desired.
East West: wide set breasts that sit at the side of the body. Look for either a full cup bra with stretch fabric, a plunge bra or one with side support that will push the breasts closer together.
Side set breasts: usually about the width of three fingers apart. Look for balcony bras with vertical seams, a wide gore (a panel of separation between the cups) and strong side support panels. However if you're aiming to achieve cleavage, you can try a plunge bra with a short gore – it won't be as comfortable but will achieve the effect.
Round: choose a full cup or minimiser if you want to reduce the impact of your breasts or a plunge or balcony if you want to maximise your assets. If elasticity has been lost, look for a full cup with extra side support and stretch to restore lift.
What does the right bra do?
It makes you look taller and slimmer: bringing your breasts higher lengthens your torso and accentuates your waist. 80% of the support for your breasts comes from the band and 20% from the straps. The cups fit between these two pieces of engineering to cradle the breasts and hold them in place.
You should only be able to fit two fingers beneath the strap at the top of your shoulder, if you can fit more than this, it needs tightening. If the band fits properly, you should be able to pull it away from your body by about an inch with your finger but no more. The elastic will stretch as you wear a bra in so fasten it on the last set of hooks when it's new and then gradually tighten it as it gives.
How to put your bra on
Really? Yes – this was the real eye-opener for me. Apart from 27 glorious months of breastfeeding, I've always had a small bust and so when I was told my cupsize I couldn't believe it. However the fitter explained to me that as we age, our breast tissue 'migrates' towards our armpits and back. She fastened my bra and then told me to bend forward at a ninety degree angle so that she could hoik (there's no other word for it) the 'migrated tissue' back into place and ta dah! – the mirror reflected an embonpoint to be proud of.
And you see this is where a good quality bra that fits properly and hasn't lost its elasticity comes in. I've replaced all of my bras carefully over the last few months, making sure that they have enough support to hold the breast tissue in place. Bras with side support in particular have been a revelation. Everything I wear looks better because the structure is there.
So I really do think that before we head into new season your lingerie drawer needs some attention. Given that the right bra has a similar effect to losing about a stone in weight it's worth checking that you're wearing the best style for your shape and if you are, consider whether it's still doing its job properly. A bra that is too comfortable probably isn't working – the advice goes that if you wear a bra four or five times a week, it will need replacing every six months.
Types of bra
Full cup: for women with full breasts that have volume at top and bottom. It offers more coverage and shaping than other bras. If you have small breasts or breasts that have more volume at the bottom than the top, you may find that this type of bra gapes. (Best for pendulous, round and slender breasts)
Balcony: a bra that gives gentle uplift and cleavage. May gape if breasts lack volume at the top. (Best for slender; asymmetric with silicone booster; pendulous; bell shaped and round breasts)
Plunge: gives cleavage without additional uplift – the gore is low and breasts are pushed together. (Best for bell shaped, side set, east west and athletic breasts).
Push up: an extension of the plunge bra, cups are angled to push the breasts in and up. (Great for athletic and east west breasts).
Bralet: no support (Best for young breasts or for wearing at night).
Minimiser: reduces the appearance of large breasts.
Multiway: great for holidays and eveningwear however support can be compromised so not ideal for everyday wear.
Spacer bra: made from lighter, thinly padded technical fabric – developed as a t-shirt bra option for anyone who overheats.
Side support bra: unsung heroes – great for east west or wide set breasts but also for anyone whose breast tissue has relaxed in the armpit area – basically most women over 50. Side support is an extra feature that is sometimes integrated into high quality full cup and balcony bras.
Lingerie capsule wardrobe
What do you need?
Nude t-shirt bra
Coloured t-shirt bra
Everyday pretty bra
Special bra
Sports bra
Strapless bra
Or, the absolute minimum
Nude t-shirt bra
Convertible bra (straps adjust or can be removed)
Sports bra (great for weekend lounging too)
Nude lingerie is the most important category – it's the only colour that won't show through when you're wearing light colours (it's a fallacy to think that white lingerie works well under white). So, I'm going to start each of these sections with a highly rated nude t-shirt bra and then move on to prettier styles.
Full cup
Full cup: to recap, this is for women with full breasts and it offers more coverage and shaping than other bras.
Full cup nude t-shirt bra
This is a new range called 'light as air' – it's a spacer bra made from high-tech fabric that has been developed so you won't overheat. It has smooth lines, soft piping, light padding, added stretch and it's machine washable.
Women with full breasts often avoid padding however with a full cup bra, usually only a thin layer is included to avoid any awkward moments… and here's a little story about one such awkward moment. One of the reasons I didn't immediately warm to Mr MC when I first met him was because as I walked into an air conditioned meeting room he took one look at me and asked me if I was 'feeling the cold' (unimaginable these days I know). Of course as I got to know him I learned how to handle his very unPC Geordie humour… and he swiftly discovered where to draw the line professionally! Since then I must add, I've always worn a lightly padded bra.
Light as air bra ; (46 styles of brief to match here)
Now I appreciate that most of the nudes I've pulled out are a lighter skintone – it isn't easy to find a depth of range however here's a collection of full cup t-shirt bras in other skintones.
Pretty full cup bras
Balcony Bra
Recap: gives gentle uplift and cleavage. May gape if breasts lack volume at the top. Because the balcony scoops the breasts and lifts them upwards, you need to focus on the mechanics and find the fit that works best for you. If you have larger breasts, look for balcony bras that are designed specifically for larger cupsizes, the cantilevering will be better giving you a more comfortable experience. Balcony bras work well for women with broader shoulders as the straps are set slightly wider apart. They're also useful if you're a fan of a boat neckline.
Nude balcony bra for smaller breasts
Newly launched, this is also a multi-way bra and can be worn strapless, single strap, halter neck and cross back.
Nude balcony multi-way bra; 26 options for matching briefs
Nude balcony – full support
Moulded and lightly padded, this offers more support for DD cups upwards (includes side support).
Supportive balcony bra; Matching briefs
Pretty balcony bras
Plunge bras
Recap: enhances cleavage without additional uplift – the gore is low and breasts are pushed together (best for bell, side set and athletic breasts).
Nude Plunge:
My personal favourite everyday nude t-shirt bra (although I wish they'd go back to the original design without the stripes). Lightly padded and incredibly comfortable to wear.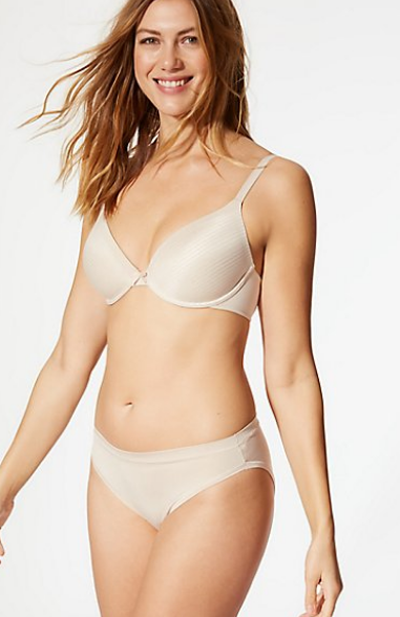 Sumptuously soft plunge t-shirt bra; 46 styles of brief to match here
Pretty plunge bras
Push-up bras
Recap: push up bras take plunge bras one step further by using padding to boost breasts from underneath as well as at the side to push them together.
Now here's an interesting fact – I'm being told by both lingerie houses and retailers that sales of push up bras have plummeted. Apparently the 15 – 30 year old market were the key consumers. With the rise of #MeToo and the reduced focus on sexiness, plus younger women's refusal to be uncomfortable, the enhanced cleavage is on its way out. Instead bralets, sports bras and natural shaping have all seen a significant increase in sales.
It's very telling that in their vast lingerie collections, John Lewis & Partners only have seven styles of push up bras available and M&S have six.
So, I hope this has been useful. As you've gathered, since my epiphany I've become a bit of a lingerie evangelist and I now have a much bigger collection than I did before. My favourite ranges are Rosie for Autograph for every day – I like the fact that they work silk into so many of their designs at an affordable price. I'm also a big fan of Smoothlines and I spotted some fantastic colours at the SS19 press show.
The John Lewis & Partners range is new and so I haven't tried it although I think the designs across all of their own brand ranges are lovely. In terms of luxury ranges my favourites are Fantasie for the shape it gives you (their engineering is second to none) and Wacoal for the quality of their lace.
This post has taken me far longer than I anticipated so I must go. Thank you though for your enthusiastic response to the survey, I'll be back on Friday – hopefully with a burst of warm sunshine for you.
Disclosure: How to find the right bra for your breast shape is not a sponsored post. Thank you to fitters, lingerie buyers and shopfloor staff at:Wacoal, BTemptd; Fantasie; Freya; John Lewis & Partners; House of Fraser and Marks & Spencer for answering my questions over the last few months as I've been working on this post.
Recent posts you may have missed
Pop of colour outfit updates SS19
How to build a capsule wardrobe part 6 – the summary
How to build a capsule wardrobe part 5 – body shape and silhouette
How to build a capsule wardrobe part 4 – defining your style icon
How to build a capsule wardrobe part 3 – colour and texture
How to build a capsule wardrobe part 2 – defining your personal look
How to build a capsule wardrobe part 1 – wardrobe reality check
New year, new plans at Midlifechic
Sale prepping – my best high street winter buys
Disclaimer: as with the majority of blogs, products featured on Midlifechic sometimes (but not always) include affiliate links. This means that if you choose to make a purchase, you are helping to support the site because a small referral commission may be paid. This contributes towards hosting fees, software costs, site maintenance and other plug-ins. Midlifechic could not exist without these small payments, so every contribution makes a big difference.