Well how lovely it is to be chatting to you again. It's odd but life feels as though it slips through my fingers when I'm not blogging; time's tendrils gather round me and without being logged, the memories evanesce. So my next two posts will be an indulgence for me – I need to squirrel away our happy Kalkan times because the boys' lives are really moving on and I can't see us the five of us having the opportunity for a long, two-week family holiday – for a few years at least. And of course, winter is coming and it does feel seminal this year; life is going to change for many of us, even if just in small ways so I'm holding on to my hazy summer days for as long as I can. Let's talk about holidaying with your adult children – a time of adjustment.
If you've been reading for a while you'll have holidayed with us in Kalkan quite a few times now (you can read more about it as a destination here). We've been going there on and off since the summer of 2000 and it's a place that captures all of our hearts. We booked this year's holiday last September because we hadn't been away together as a family that year and we all missed it. We were each feeling a parting of the ways as the youngest headed off to uni for the first time leaving us to fashion something new out of our empty nest. Family life was no longer our fulcrum and as we each set off in new, unknown directions, I think we all had a sense of cleaving. So there was comfort in knowing that there was a plan in place for us to be together again for a good stretch of time.
In the meantime of course life went on. We handled the empty nest better than we expected – well actually I should change that to 'I handled the empty nest better than I expected,' because Mr MC has been somewhat looking forward to it for the last 25 years! The boys all settled well into their own lives and apart from the occasional hiccup I haven't had to worry about them. Instead I simply relish the tales they tell during our FaceTime calls of the good times they're having. And so when the holiday came around it was, in a way, a bit of an interruption for all of us. We'd got used to living alongside each other rather than together and so none of us knew quite what to expect.
I don't think I've ever given a holiday so little thought before. I suppose that happens when you're going somewhere very familiar with people you know very well but we'd also all been so very busy in the weeks running up to it that it seemed to appear rather suddenly. And so we set off to the airport almost with a gasp – of surprise and delight but also of 'I hope this is going to go ok.' We were going to have to relearn how to 'be' as a family when all of our lives have moved on and the dynamic has naturally changed.
Holidaying with your adult children – a time of adjustment
Here we are on our first morning and it's a sign of how busy we'd been that Mr MC hadn't had time to have a haircut before we left. He loves visiting a Turkish barber because they don't just cut your hair – massage and hot cloths are involved, they wax and singe the ears and nose, shape the eyebrows as well as conditioning the beard, trimming it and realigning it to the contours of the face. I told him I was quite happy to wait in a cafe with my book while he was pampered – it usually takes about half an hour but I waited… and waited… and waited. He didn't have any data on his phone out there and so couldn't let me know what was going on but two hours later he finally appeared looking a bit harassed. They'd been working on him the whole time and as a low maintenance chap he'd had more than enough.
I don't think I've ever had a beauty session as long as that, even in the most bougie of London salons!
Boden halterneck 2001, M&S shorts 2014, Sezane tote 2016, sandals
We had a lazy afternoon by the pool and finished with our traditional first night of pizza in our favourite spot
I was feeling a bit weary and so I didn't dress up. I've worn this outfit countless times in Kalkan over the years. The top is actually one I bought when I was heavily pregnant with the middle boy during the heatwave of 2001!
M&S halter tee 2001, Mango skirt 2006, sandals
The boys were on good form as the reconnecting began…
… and I felt proud of the youngest – he'd been watching three young English children hovering around the restaurant's puppy a little anxiously so he went over and showed them how to make friends with it. It's a shame when children are nervous around animals but of course for lots of reasons not everyone can have a pet of their own.
And so as the days went on we gradually fell back into our family's groove. It's odd being in a villa that holds the whispers of so many holidays with the boys when they were small but in a lot of ways I realise that they're still the same people. As their mother I can look through their new personas and still quite clearly see the toddlers they used to be – their essential selves I suppose. However this time did feel different and halfway through the week it occurred to me that the last time we were there in 2020, the middle and youngest hadn't yet left for university and so four of us at least were still very much part of each other's every day. Now though all of our lives hold so much that the others don't see or hear about and so our experience is no longer 100% shared.
Boden dress (now in the sale, gifted SS22)
Boden dress (now in the sale, gifted SS22)
They did a lot of talking and we did a lot of listening as we caught up on the year they've had. We heard how their hopes and dreams are panning out now that the worst of lockdown is over and they feel more confident that roads are opening up to them again.
So the first few days and nights felt important…
… and I feel very lucky to have had that time because we need to work at staying close during this stage of our lives as we all set off in new directions. When I left for university myself my parents retired and so in my early adult years they had more time for me than they'd ever had before. Our relationship grew much closer than it had been as a result. I keep trying to remember that because I'm always so busy working when the boys come home. If we don't have another holiday together for a while I must be disciplined and somehow make time with them in other ways.
So in terms of holidaying with your adult children, some things had changed and others hadn't. I'd imagined that after living independently for a year they'd be keen to do a lot for themselves. I thought they'd head out for their own food and perhaps want to explore on their own but they didn't. As far as that side of family life is concerned they were very happy to regress and so Mr MC and I spent more time than we'd anticipated sourcing meals. It made me think of the weary looking pair of swans I've been watching on the canal at the bottom of our garden. Their large cygnets haven't quite fledged but I know that any day now there will be a furious flurry of wings as their dad sends them off to fend for themselves. Two of ours have headed off this week so we now just have one left at home and while I have my wings wrapped around him, I can feel Mr MC's feathers catching the wind!
Anyway back to Kalkan and at least it meant I had lots of 'popping out to the shops' outfit photos. We could only buy as much as we could carry and there are some very steep hills in Kalkan so I'm going to give a shout out to these flip flops that I bought just before we left. I'd been looking back at old Kalkan posts and they reminded me that I often have achilles problems from walking so much in very flat sandals. These have arch support and they're brilliant (and they share a name with one of our boys so he felt I'd bought them as a tribute to him when he saw the logo on the strap!)
Freya beach dress 2015, flip flops with arch support
This was a particularly humid day so I needed to sit down when we made it back up the hill…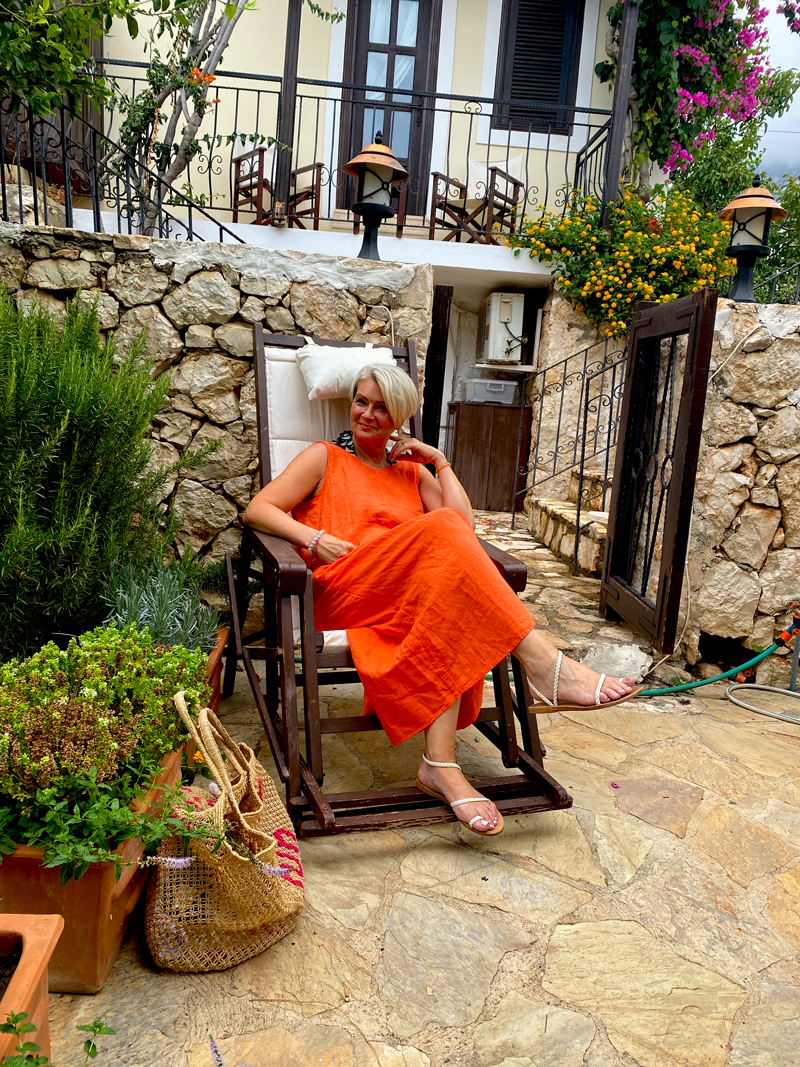 Cos dress 2020, sandals
… and the house tortoise popped out, hoping for lunch, just like the boys.
You'll notice that days are very casual in Kalkan, I just throw a dress over a bikini.
Boden dress 2022, flip flops with arch support
Or a jumpsuit.
Towards the end of the week we hired a car for a few days so that we could head out to some of our favourite spots. We're up at a mountain trout farm here, away from the heat.
M&S halter tee 2001, Boden bistro shorts 2007, sandals
You really can't beat a lunch of trout fresh from the mountain stream.
And here's more evidence that Crocs are the shoe du jour – only they're becoming ever more elaborate!
This was an evening when I wasn't in the mood to cook so Mr MC and I popped out to pick up pizza to take back and had a quiet drink while we waited.
Hush gold lustre top 2021; Linen trousers; sandals
We liked it so much that we decided to have a date night the following night, leaving the boys to go out on their own…
Massimo Dutti silk camisole 2018; Trousers now half price in the sale
… although we kept bumping into them because we all like the same bars!
Massimo Dutti silk camisole 2018; Trousers now half price in the sale
We had simple evenings on the roof of the villa – playing the one game that nobody ever tires of…
We had days on boats or took a water taxi out to a beach club…
… or drove round to Patara where the turtles nest.
Animal bikini 2019
Lots of people wait to watch the sun set…
… and then we always stop off at a roadside shack for Gozleme (stuffed pancakes)
I never want to leave you with an unrealistic view so I'll add that it wasn't all perfect. It's easy to have very high expectations of holidays and imagine that by leaving the everyday stresses of life behind, every single moment will be blissful. Of course it doesn't work like that because you still take yourselves and your varying temperaments with you.
If you're holidaying with your adult children or going through any period of readjustment as a family I think it's crucial to acknowledge that people change and move on. In order to stay close to your adult offspring you have to allow them to grow and be the people they want to be; that can be hard when you've given birth to them and known them for their whole life. So I won't hide the fact that there were cross words and low moods from each one of us at different points as we all adjusted and got used to the new 'us' but by the end of the first week we'd got them out of the way.
Boden halter top 2001; Gift Pop Boutique hareem pants 2015
Which was a good thing because as we enjoyed this one last breakfast as our core five, we were slightly anxiously aware that the eldest's and youngest's girlfriends were winging their way towards us and change was in the air…
… but I'll tell you all about that next week.
By the time you read that post we'll be on the move again. You see Mr MC and I have been given a brief of 'romance' by a brand who's invited us to travel with them. It's going to be a complete change from holidaying with your adult children, because while I'm there I'll be talking about the empty nest and rebuilding your relationship as a two. I've had very little time to think about it because we've had to crack on with work at a fast pace this week so it's going to be pretty spontaneous but at least you'll know that whatever I say is from the heart.
A lot of it will take place on Instagram (@midlifechic) including Stories every day and as you know I get myself into a bit of a tizz about those so any friendly words you can give along the way will be very soothing! I'm going to have to talk to camera and it will make all the difference to know I have you on my side. I keep telling myself that all I have to do is imagine I'm talking to you but on video instead of the written word. Sometimes we have to do the things that scare us don't we? Especially in midlife when it's easy to keep on doing what we've always done. It helps us to keep on growing. (There's a bit of a pep talk to self going on here – can you tell?!)
I can't say where we're going yet but we'll be travelling long haul to a place that I've always wanted to visit. It made the longlist of our 'places to go before we're 80′ but not the final 20 so it feels like a lottery win at the moment. And of course Mr MC will be adding his two penneth to my chats as well which may (or may not) be a bonus!
On that note, we've been doing a lot of talking about the blog and the fact that he's now appearing in it far more frequently than he has before. As we forge a new life together without the boys it feels natural that he'll pop up more often so it doesn't make sense to carry on keeping him at arms length by referring to him as Mr MC. So it's time to introduce him to you properly as Mal which is short for Malcolm – but nobody ever calls him that unless he's in trouble. It's going to feel strange because I've worked so hard to protect his and the boys' privacy over the last eight years but Midlifechic has become a big and permanent part of both of our lives now.
So, next week I'll be writing about one destination while appearing in real life from another which may seem like jetsetting but as with buses, good things have all just come along at once. When I'm back we'll be looking autumn in the eye so let's linger over these last days of summer – September is often the nicest month so don't forget to make it count.
Disclosure: 'Holidaying with your adult children – a time of adjustment' is not a sponsored post
Recent posts you may have missed
Closing off summer chez Midlifechic – it's goodbye for a while
City trips to London and Glasgow
Love & Marriage – the joy of a simple wedding
Getting your confidence back after 50
Midlife lately – making summer weekends count
Cornucopia – summer outfits, UK travel and The Telegraph
Clothing to combat hot weather and midlife lately
How to look your best in holiday photos
Looking good in summer – beauty tips and outfits
What I'm wearing at home and abroad
Ageless style – summer holiday looks and birthday thoughts
Bright colours to lift spring outfits at reasonable prices
SS22 dresses for weddings, graduations and special occasions
Easter style and beauty – dresses, trousers, tees and tools
A midlife catch-up – what I've been doing and wearing
Testing new Estée Lauder products
SS22 new trends and wardrobe updates
Edgar House review – a great British bolthole for large groups
Subscribe by email
Disclosure: as with the majority of blogs, products featured on Midlifechic sometimes (but not always) include affiliate links. This means that if you choose to make a purchase, you are helping to support the site because a small referral commission may be paid. This contributes towards hosting fees, software costs, site maintenance and other plug-ins. Midlifechic could not exist without these small payments, so every contribution makes a big difference.