I have a really lovely little find to share with you today. I haven't added to my Great British Boltholes series of good places to escape to since before lockdown but now I want to tell you about a bijou hotel in North Yorkshire. It's the one we stayed in last weekend and when I say bijou, I mean it's small and personal and family run. So, I'm going to talk a little bit about it and its surroundings but then I want to tell you the very personal story behind it in the hope that you might help me to support a fellow midlife woman who is building a business in very challenging circumstances – and there will be an exclusive weekend break offer for Midlifechic readers at the end.
A bijou hotel in North Yorkshire
It was back in early spring that an invitation arrived to review The Wensleydale Hotel in Middleham and it's a sign of how packed our diary was that I couldn't give them a date until October. I put it in the calendar and didn't have a chance to think anything more about it until last Friday when we left home in the dark at the end of a busy week. I'd hoped to research it as we drove but as I so often say, there are no easy roads from Lancashire to Yorkshire and as we travelled along twisty country lanes in the dark, I had to give up. Eventually though we arrived in a quaint little country town where the lights were twinkling and our hotel was waiting for us in the market square.
Here's our room, compact as very old hotels often are – but cosy. The bed was a kingsize, the mattress was comfortable and the pillows were great.
The bathroom was simple but good and the toiletries were Temple Spa – these are the things that matter.
We had that sinking Friday night weariness and it was tempting just to stay and eat at The Wensleydale but we had a table booked there for the following night.
As we stepped out into the square we realised that there was not just one but three country pubs to choose from, only a minute's walk away. We opted for the one that looked the cosiest, went to the bar and asked for the menu only to be told rather firmly, "it's ten past eight you know." And we were confused because yes we did know but hadn't imagined that they'd have already 'wiped down' as they told us. In the end they took pity on us and gave us a choice of lasagne or scampi. It was all very Yorkshire and to the point but we weren't going to argue and quickly opted for lasagne. To be fair, when it came it was home-made and I think it was the most delicious lasagne I've ever eaten.
Here's a picture where I'm still looking a bit taken aback, I was talking to the boys on WhatsApp as I ate. Oh and we were seated next to a roaring fire so I'd had to quickly strip off the warm cashmere cardigan I was wearing – hence the tee. Apparently that's AP McCoy peering over my shoulder and if you're wondering why, it's because for hundreds of years Middleham has been one of the biggest centres for racehorse training in the UK. There are fifteen training yards producing more than 400 winners every year so everything is very racing focused.
Hush lace vest (circa 2016)
After we'd eaten, we popped into one of the other pubs for a drink and then returned to The Wensleydale, planning to have one last drink before bed. And then we got chatting to Monty who is the son of the family and manager of the hotel. He's a consummate host and, as the other guests had retired for the night, was able to give us his full attention.
I'll tell you more about the family's story at the end of this post but even though Monty is only 24 years old, he's lived with his family in so many different countries that he's a real polymath and we spent a happy couple of hours talking about all kinds of things. When he isn't running the business one of his current hobbies is making cider which he's also hoping to distill into calvados. He brought us one of the bottles to try which probably wasn't a good idea because it was strong stuff. We shared it between the three of us while he and I had a great conversation about languages – he's proficiently multi-lingual so we got into the nitty gritty of particular words. And he has a brilliant leg too which you'll see further down, it only seemed to add to the speed at which he kept everything running while we chatted.
So we stumbled off to bed later than intended… and woke earlier than we'd imagined too – the racehorses start to trot past at 6.15 am and so there was a constant equine percussion outside our window.
However, a hearty breakfast was waiting downstairs, freshly cooked to order and in the days of the ubiquitous congealing hotel buffet, it was such a treat.
M&S cable knit AW21 (this year's version)
In the daylight we noticed the little interior touches around the place…
… the digestifs looked tempting for later on…
… and who remembers the Yellow Pages ad? There are lots of activities that The Wensleydale can arrange for you including guided fly fishing, the hire of e-bikes, self guided walking routes, wild swimming and behind the scenes tours of the racing stables
Exploring Middleham
As we stepped outside we were able to see Middleham in daylight for the first time…
… the pubs are arranged around the square; here's the 'lasagne or scampi' one…
… we didn't visit this one because it was closed for a week's holiday…
… but we did go into this one which was full of stable lads and lasses, some of whom we saw on horseback early the next morning, looking very bleary eyed.
Middleham has a few well regarded antiques shops…
… and being an ancient town of royal bearing, the architecture is something else.
There's so much history as you wander around and it may feel familiar because the original BBC adaptation of James Herriot's 'All Creatures Great and Small' was filmed in Middleham and the surrounding area.
But it's very much a lived in town too, the coal merchant was making his winter deliveries…
… and the locals were some of the friendliest we'd ever met. We stopped on a few occasions and had really good conversations with people – and their dogs.
The jewel in the crown is Middleham castle. I knew nothing about it until we went in and it turned out that it was the Yorkist HQ during the Wars of the Roses which required the summoning of a certain sangfroid for somebody born in the shadow of Lancaster castle! It was the birthplace of Richard III – he who was recently found under a car park in Leicester – and the story is brought to life in The Lost King which is cinemas now. I'm really looking forward to seeing it – Sally Hawkins is one of my favourite actors.
Anyway it's what I'd call a semi-ruin, run by English Heritage with lots to explore and useful information boards around the place…
… and stunning views for miles around from the top of the tower.
And here's one of those moments where we'd been watching the half term families dragging reluctant teens around and glorying in the empty nest when a text arrived from a boy with a cashflow issue and a rent bill looming, interrupting the bucolic photo that Mal had imagined.
M&S cable knit AW21 (this year's version); cord skirt (gifted AW22); Boden parka (AW21); Boots
Moving on to Masham
Nearly New Cashmere
Even though it was a glorious day, we were keener to explore the surrounding towns than go for a walk. And having looked at the map I had one stop in mind – Nearly New Cashmere, the brand that I talked about a couple of weeks ago. I'd noticed that their shop was in Masham (pronounced Massam) near to Middleham so we popped in.
M&S cable knit AW21 (this year's version); cord skirt (gifted AW22)
It's just lovely. Everything is arranged by colour and then by size so it's easy to browse. I'll tell you what I found particularly interesting though – the difference in quality between the high street brands when they're arranged side by side. Just by touch I'd put M&S at the bottom, Boden in the middle and J Crew at the upper end. There were lots of other brands too, some I knew, some I didn't but everything was in great condition so I'd say you're getting a bargain by shopping there.
A local lady was running the shop that day; she does a lot of the restoration and mending so it was fascinating to talk to her. She showed us how they can repair pieces almost invisibly if they have small holes and if there's a bigger problem they can do something creative such as adding a star like this.
Absolutely nothing is wasted, if something is beyond repair it's made into hats, snoods or gloves…
… and even the scraps are kept to be recycled into repairs such as the star above.
Here are all of the colours in the workroom, ready to be used on the pieces that arrive every day. It's great to see a business that's working so sustainably not only in terms of product but also by providing work for lots of different age groups in the local area. It felt so much more honest than a lot of the sustainability gesturing that's going on. By the way, she told me that they'd be uploading a lot of new stock onto the website this week, you can find it here.
Black Sheep Brewery
Just down the road is the Black Sheep Brewery – so called because there was a fall-out in the Theakston family (they own the much older brewery nearby) causing one of the brothers to branch out alone as the black sheep, hence the name. Mal likes their chocolate orange stout so after an hour of cashmere, it seemed only fair to stop off.
There was all sorts going on. We didn't have time for the brewery tour but we did manage a pint for one in the disco tent…
… this is the closest I get to drinking beer…
And for a while we stood and watched the teens trying to stay on the 'bucking ram' – of course Mal was convinced he could do better. This was the result!
After that we thought we'd compare the Theakston's experience but there was only a bar and brewery tour so we didn't go in.
And then we spent a while wandering around Masham itself which must be one of the prettiest and most thriving market towns I've come across in the UK. I didn't spot a single high street retailer, not even the pharmacy and yet every shop looked busy and well cared for. There were greengrocers and food stores…
… home shops and galleries…
M&S cable knit AW21 (this year's version); cord skirt (gifted AW22); Boden parka (AW21); Boots
… I was especially pleased to find one owned by Ian Scott Massie who's an artist we both really like. He creates beautiful screen prints of Newcastle that we often stop and admire. It turns out that he lives in Masham and he was there, in his shop.
I don't know whether it was a local initiative but every storefront was beautifully decorated for Hallowe'en…
… even the butcher had joined in – look to the bottom of the photo!
Masham is an incredible example of the way that independent retailers can thrive in a bustling and supportive community. Because this isn't a tourist honeypot it hasn't turned to the overpriced tat that's invading most of the shops in places like the Lake District. We both fell utterly in love with the place.
Dinner at The Wensleydale Hotel
Back at the hotel we changed for dinner and I wore my new dress. The stables-themed restaurant, The Tack Room, is open to non-residents too, it's small and personal so we chatted briefly to people at other tables. Lots of them were guests who return regularly because the hotel makes a central base for visiting the Dales, Northumbria, Newcastle, York, Leeds, Harrogate, even The Lakes – in fact one American couple had come for five nights and stayed for a month, just for that reason.
Midi-dress (gifted AW22)
The food was good: we started with spinach soup with a blue cheese crouton and a goats cheese soufflé.
Moved on to roast beef striploin and pork medallions, both with different sauces.
And then finished with treacle tart with clotted cream and mango topped cheesecake. My only criticism was that the treacle tart didn't quite hit the tooth crumbling sweet spot that I remember from my childhood days. The wine was very good and Mal had a particularly good muscat with his dessert too. After our early start and busy day, we were early to bed and slept like kings (but not Yorkshire ones!).
The following morning we awoke to the same horses but very different weather so we had a lazy morning, followed by an indulgent breakfast.
About The Wensleydale – a bijou hotel in North Yorkshire
Then we had coffee with Fiona, who owns The Wensleydale and she told us all about the project they've undertaken.
Striped jumper (gifted AW22); Stories cord trousers (now in the sale in larger sizes – I had mine shortened); Boden boots (AW21)
She and her husband Charles have spent their whole careers working in prestigious hotels around the world, taking their sons Monty and Hugo along with them. They've lived and worked in Kuala Lumpur, Hong Kong, Venice, Edinburgh… but their ultimate dream was to set up a place of their own and make it just what they felt a hotel should be. In 2019, they returned to Fiona's Yorkshire roots and bought The Wensleydale Hotel which at the time was quite run down and they set about their plans to make it perfect.
Of course along came lockdown in 2020 so they couldn't trade but, undeterred, they decided to keep on ploughing their energy into the refurbishment. Monty had just begun his first year at Brighton University but he came home to help. When he wasn't home schooling, Hugo started helping his dad while he was trying out recipes and enjoyed training as a chef.
At last came the day when the final piece of equipment was installed into Charles's dream kitchen – and just as it was, he had a huge stroke. He was rushed to hospital where they found he unknowingly had Covid which was probably what triggered the stroke. This was in the early days of the pandemic so we know how these things progressed, he was ventilated and the family were told to anticipate the worst. In the end he pulled through but he's still very incapacitated and can't yet return home. So, Fiona is continuing to run their venture with the help of the boys. Rather than returning to university Monty has stayed on as manager. Hugo is studying Economics at Newcastle Uni but Fiona stressed that he returns to help in the kitchen without question whenever they need him. Along with their old friend Rui Barradas who has also joined them to help keep the wheels turning, they make a great team.
As she told me her story, there wasn't an ounce of self pity. Instead I could sense her valour – there's no other word for it; the classic midlife woman's determination to 'keep on buggering on.' She was quick to point out the bright sides that she finds. Charles is very slowly improving. And since Monty made the decision to have his leg amputated after struggling for years with a congenital malformation, he's now in demand from brands such as Burberry and Hollister to model for them when he can take time away from the hotel. He was obviously far too modest to tell us that himself but he skis and cycles and it's clear that he has a formidable determination not to let anything hold him back.
After staying there I'd be happy to recommend The Wensleydale to you anyway; however it's the warmth and openness of the family that clearly endears them to everyone who goes there. It isn't a swish hotel and it isn't what you'd call boutique – there's nothing hyperdesigned or pretentious about it. It's small, authentic and comfortable with good food and wine – oh and some rooms are dog friendly so you can take your pooch along too. And of course it's a great base for exploring a relatively undiscovered corner of the North – we had to rush through everything in a day but we could easily have spent five days there or even a week. There are plenty of good places to eat within a short walk or drive and the good thing about it not being a tourist hotspot is that prices in bars, restaurants and shops aren't inflated – they're local places for local people.
Fiona has put together an offer that is exclusive to Midlifechic readers. If you're thinking of a weekend break, I'm hoping that some of you might bypass the obvious destinations and support her as a fellow midlifer. You'll feel as if you're staying with a friend. She's offering three nights B&B at The Wensleydale for the price of two if you stay before 31st March 2023 and make your booking before 30th November 2022 (excludes 23rd December 2022 – 2nd January 2023). Please mention Midlifechic to redeem (or use code MLC if booking online) – I'm not earning anything from this by the way, it's just because the offer is exclusive to us. Prices will range from £200 – £320 for two people for the whole three nights, depending on which room you choose. If you don't want to be woken by the clip clopping of horses' hooves at 6.15 am, opt for a room at the back.
Another great business led by a midlife woman
We all know that we're facing difficult times and so I have to make it a hat trick today by featuring one more small business with a midlife woman's dreams wrapped up inside it. I'm trying very hard to make sure that I support as many small businesses as big ones, in whatever way I can. So I just want to show you some pieces from the very latest deliveries at Hope.
As you know, Nayna and her team design specifically for midlife women's changing bodies, paying particular attention to the midriff area. It means that Hope clothes are always particularly good for apple shapes although they can still be worn by anybody. I have two looks to show you – and yes I'm starting with pink again but you can't miss it this season.
This jumper and skirt can be worn separately of course but I particularly like the tonality of them worn together as an outfit. Here they are in the Hope shots on women of different shapes…
Boxy knit jumper; soft pleated skirt
… I was inspired by the leopard sofa…
Boxy knit jumper; soft pleated skirt
… so here it is on me worn with leopard boots. I already have this jumper in charcoal from 2020 so I knew I'd love it. I don't know how Hope manage it but they make a great yarn that doesn't itch. I'm wearing it untucked here to show you the shape of the knit…
Boxy knit jumper; soft pleated skirt
…but you can wear it tucked in too, the fact that the skirt has a lurex waistband just adds to the look.
The asymmetry of the skirt and the fabric mean that it moves beautifully as you can see. It has graduated pleating too to make it more flattering across the tummy. It's floaty, elegant and it's also available in black. I'm wearing a size slim and it's perfect. If you find a jumper too hot, there's a blouse that goes with the skirt perfectly here.
Boxy knit jumper (on loan); soft pleated skirt (on loan)
The other outfit is a complete contrast in its neutral shades of coffee and cream. The skirt follows the current trend for eco-leather. There's always one friend who'll come up to you when you're wearing leather and put their hand on your thigh as a supposed mark of affection when you know they're just checking out whether it's real or not. And actually this skirt would leave them wondering, it's much higher quality and it's surprisingly tactile. I'm wearing a slim and it's just right for a size 12.
Cream lustre knit (on loan); cream lustre wrap (on loan); eco-leather skirt (on loan)
The jumper is a lightly spun merino and cashmere mix with 10% lurex giving it a soft golden glow that subtly lights up your face in the same way as pearls. Nobody does these knits like Hope and the matching wraps are an added luxury.
Cream lustre knit (on loan); cream lustre wrap (on loan); eco-leather skirt (on loan)
I have one (but sadly without the lurex) from a few years ago and I almost always take it on holiday with me for chilly evenings because it goes with everything and even though it's warm, it's as light as a feather. Here it is on a chilly evening in Lanzarote back in May.
And in Marrakech with the matching jumper back in 2019 – they really do earn their keep.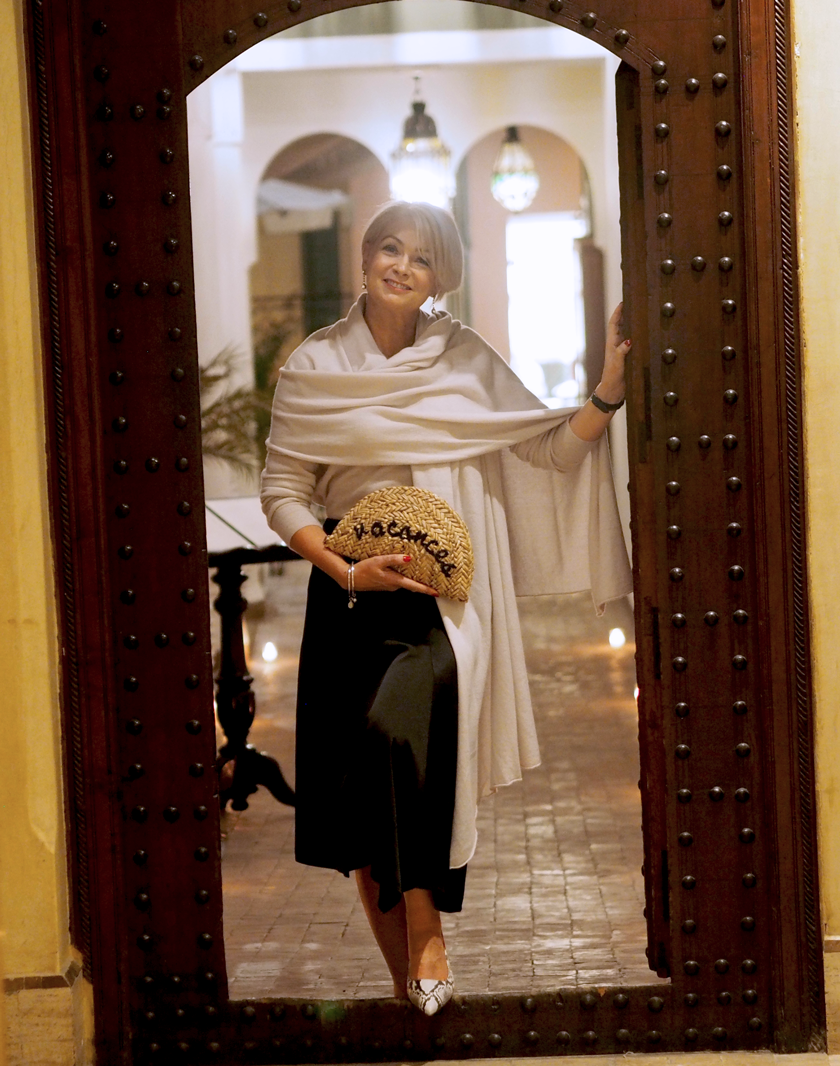 Of course there are lots of other new pieces at Hope including their new peacock range in vivid shades of teal and amethyst that I haven't seen them do before. Do go over and have a look, they're a great team of midlife women doing their best to keep retailing in this difficult environment. They really care about their customer so do support them if you can. They're currently running a Midlifechic offer of 15% off until midnight on Sunday 6th November if you use code Nikki15 at checkout.
And with that I must dash because we're away again this weekend – I'm actually looking forward to November because we have four weeks at home! Life is busy with Christmas implementations in full swing for everyone we work with… I'll tell you all about it… soon.
Disclosure: Great British Boltholes – a bijou hotel in North Yorkshire is not a sponsored post
Recent posts you may have missed
Autumn midlife lately – time for a catch-up
Easy ways to build a colourful winter wardrobe
Edging into AW22 with White Stuff
Sandals Resorts – a good option for midlifers?
When your family moves on and expands – welcoming partners into the mix
Holidaying with your adult children – a time of adjustment
Closing off summer chez Midlifechic – it's goodbye for a while
City trips to London and Glasgow
Love & Marriage – the joy of a simple wedding
Getting your confidence back after 50
Midlife lately – making summer weekends count
Cornucopia – summer outfits, UK travel and The Telegraph
Clothing to combat hot weather and midlife lately
How to look your best in holiday photos
Looking good in summer – beauty tips and outfits
What I'm wearing at home and abroad
Subscribe by email
Disclosure: as with the majority of blogs, products featured on Midlifechic sometimes (but not always) include affiliate links. This means that if you choose to make a purchase, you are helping to support the site because a small referral commission may be paid. This contributes towards hosting fees, software costs, site maintenance and other plug-ins. Midlifechic could not exist without these small payments, so every contribution makes a big difference.