Hello dear friends – it's been a while but we're back from our holiday in Kalkan. The daily grind has resumed and before the glow wears off, let me take you with me to Turkey for a whirlwind tour of our lazy days and nights. Before we get on to outfits I must remind you that my life was so very hectic in the weeks before we went away that, unlike last year when I shopped and planned outfits for every day, this year it was a case of pulling unworn summer clothes out of drawers and packing them the night before – so it's a case of Midlifechic on the hop. There is no carefully thought through core colour theme, rather a riot of my favourite colours. However it just goes to show that metallic accessories can be an outfit saver. The other thing I need to say is that although I took 7 pairs of lovely shoes, Kalkan is very hilly and full of slippy stone pavements so I couldn't wear anything with leather soles which reduced my options. Let's go.
This is the first, very weary looking photo of me. We'd travelled on a red eye flight so hadn't slept for nearly 24 hours when we finally sat down for dinner.
Boden top; Zara flowy trousers; Boden sixties flats; Boden pink and orange clutch
The view from our breakfast table on the first morning
The pool at our villa where we spent most of our time over the next few days…
… when we weren't sitting reading in one of the very many shady corners of the gardens that surrounded it…
…we even had our own herb garden…
…and a roof garden with beautiful views…
Mr MC taught the eldest how to make fresh margaritas which is, after all, an important life skill…
After a few days of doing nothing we mustered the energy to get dressed and walk into town for dinner…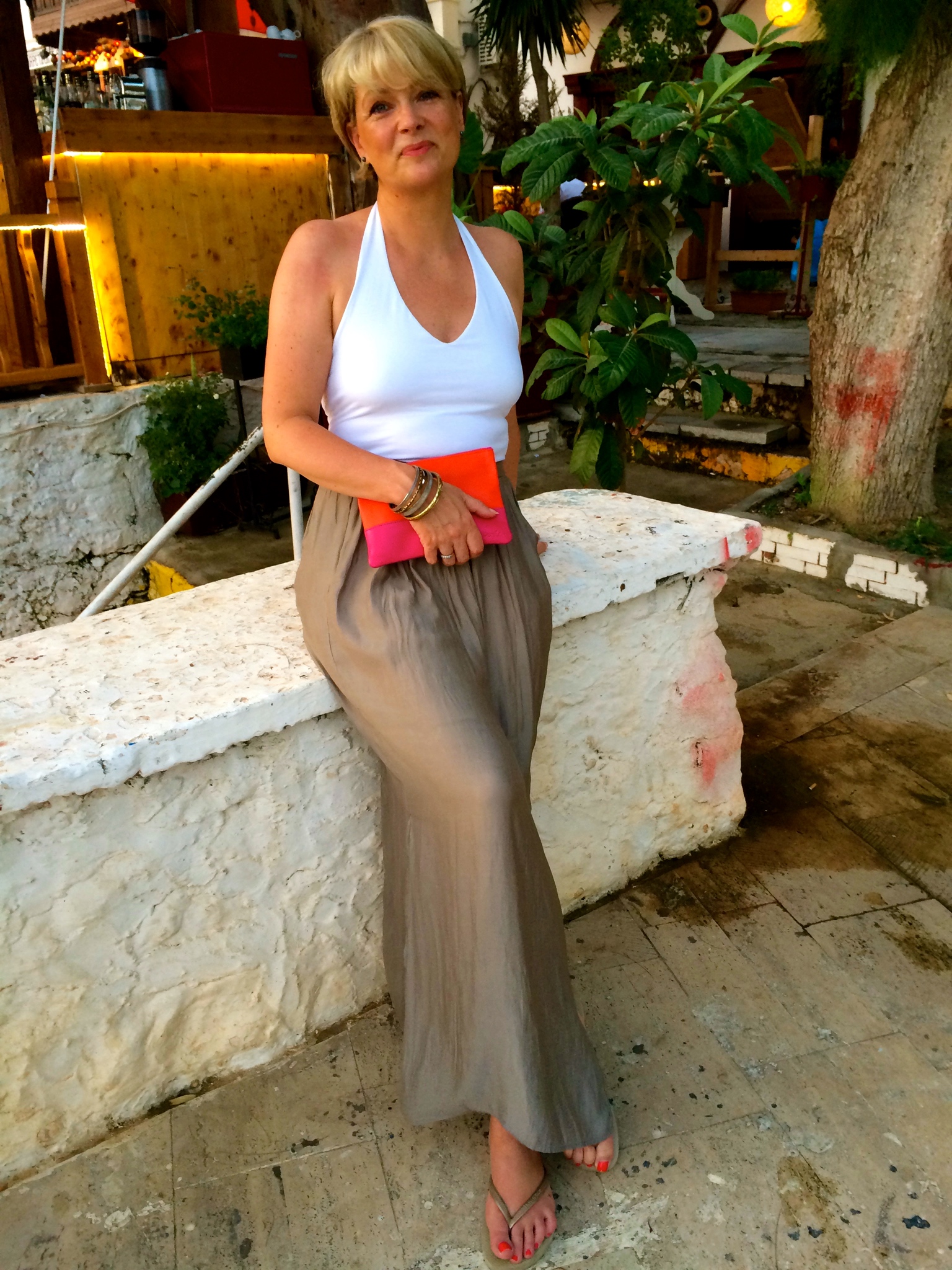 Mango skirt; Boden halterneck; Boden clutch; gold Havaianas
…and again the next night…
Zalando Jumpsuit; H&M sandals; Whistles silver clutch; Eternal Collection necklace
We just happened to be sitting like this waiting for Mr MC to set the alarm when he decided it made the perfect Fellini style shot
Dress bought at a market on the Ile de Re; Diamond Style Swarovski necklace; Whistles silver clutch
Feeling much more energetic in the second week we spent lazy days at sea on gulets
…didn't stress about the regular power cuts that put hairdryers off the agenda…
Johnnie B top; Boden shorts; Zara sandals
…even the middle one managed to chill out about our bad hair nights, although his hair survived better than mine …
Some nights I even dressed up for dinner on our own roof terrace…
Quicksilver dress; Boden espadrilles; Boden clutch; Eternal Collection Murano necklace
The thing is you see, I have a huge collection of summer dresses that never see the light of day in the North of England so it was like seeing old friends
Dress bought in Ibiza; Silver Havaianas 
The second week was so hot that some nights it was easier to wear shorts
Johnnie B navy broderie blouse; Boden chino shorts
Boden dress; Next silver straw beach bag; J Crew necklace; Jigsaw sunglasses
The best thing about the holiday? Quite honestly, after a year of being back on the career ladder, it was just lovely to spend time reconnecting with all my chaps
Next lace trimmed cami; Boden chino shorts; J Crew necklace
Even though they were too lazy to stand up and take a photo of me and their Pa!
We spent long nights over noisy games of ferocious Perudo
I indulged in freshly caught sea bass nearly every day (my favourite)
The 7th August was the middle one's 14th birthday so we spent a day at a beach club
…followed by a special dinner…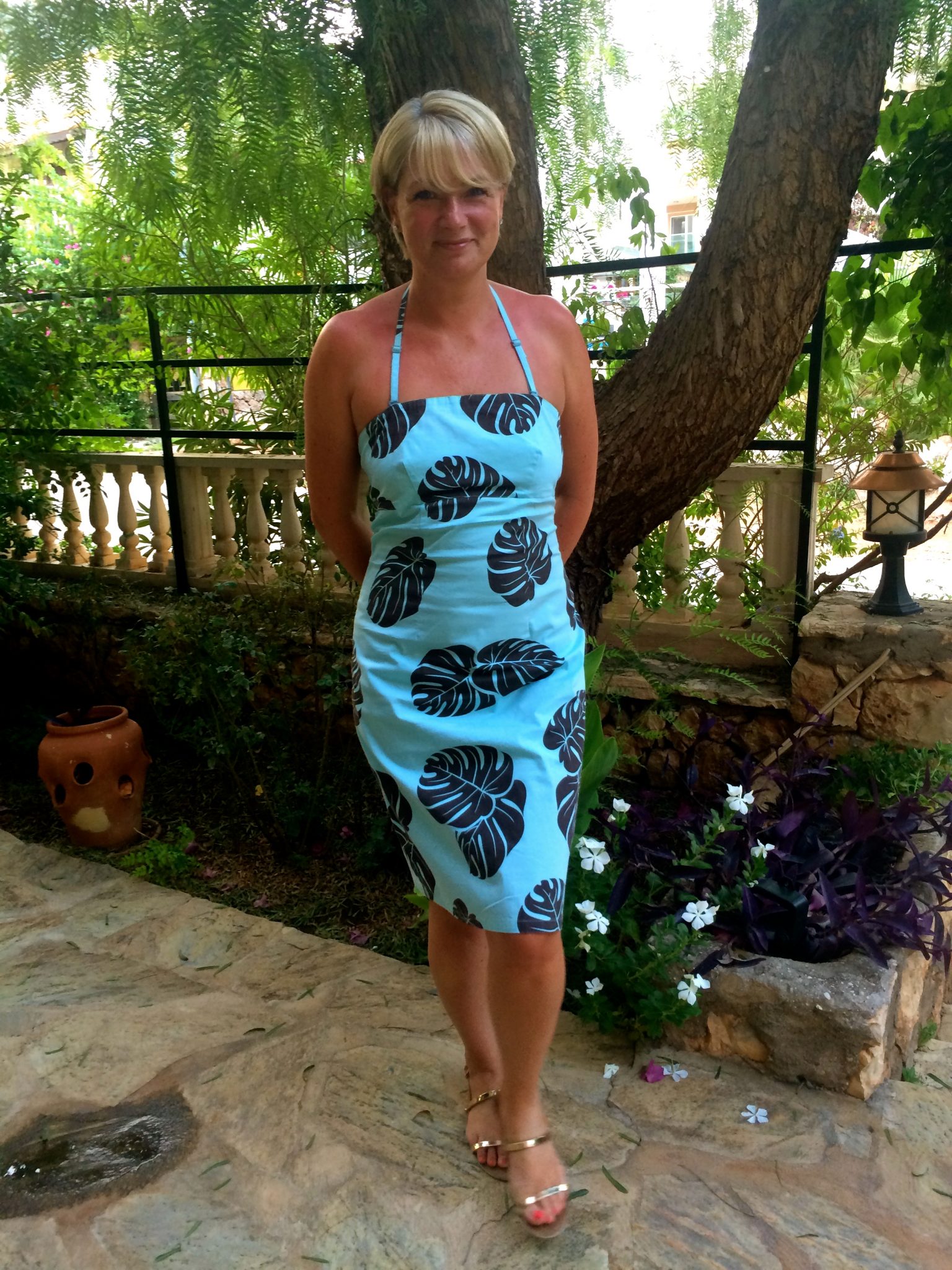 Quicksilver dress; Zara sandals
…where much to his horror the waiters sang and danced and brought cake which meant everybody looked at him…
The next day, after being left in peace by the pool for 2 hours, I assumed they must all be inside on their laptops but no… they had spent the afternoon coaxing some stray kittens with milk. It's amazing how simple life can be when you take the time to unplug.
Macho rugby players they may be on the outside but they're all softies really
Our last night of dressing for dinner…
Mango maxi skirt; M&S halter top
A walk into town the next day to buy gifts for the housesitters…
Boden top; Boden chino shorts 
A final cruise on our last night to look for shooting stars and swim in the dark
No Make-up, no blow dry, I'd reached the point of utter relaxation…
Fat Face bikini
Because our flight wasn't until midnight, we were given a beautiful little house right by the harbour to spend our last day in. We had one last meal and the boys left Mr MC to finish our coffees. As we walked back to the house, we had this rather alarming 'Fiddler on the Roof' surprise… can you spot them?
So, a lovely holiday, hopefully not the last one that our eldest spends with us. We'll see.
A note about bikinigate
Those of you who follow me on Instagram will know that I was incensed by a piece that Janet Street Porter wrote in the Daily Mail (which was brought to me gleefully by the eldest as I lounged by the pool). She stated that 'No Woman Over 20 should wear a bikini.' Now I don't usually rise to this salacious style of journalism but I'm sick of the censuring of older women's bodies. I've been delighted to see some of my blogging peers having the guts to feature bikinis this summer. Poppy of Poppy's Style started it here by wearing a bikini and stating "I will say that though I battle with my expanding waistline and I adapt to new bumps and scars, as I approach my 44th birthday this summer, I have never been happier or more content with my body in a bikini. Embrace it girls – if you do everyone else will!" Since then, Lizzie from Whatlizzieloves has looked lovely in a nautical bikini, Keri from Chronicles of DollieDaydream did a bikini post and Helen of FashionFortyish and Greetje of NoFearOfFashion have also done the deed on Instagram.
So, I thought about it very hard and decided I would join them by posting a bikini shot. It was a bit nerve wracking and I'm truly grateful to all of you who left supportive comments. However I did receive two emails from readers questioning my motives. I've replied to them both individually but just in case anyone else thinks that it was inappropriate, I want to explain my thoughts. As the mother of 3 sons who are growing up in the digital age, I want them to know that women's bodies change with age but that they are beautiful in all shapes and sizes. I feel that it is my responsibility and a contribution to the happiness of my future daughters-in-law. If boys read and hear about older women feeling ashamed of their bodies, they will believe that it is the right way to behave and it isn't. I want them to know that my body is the result of nearly 50 years of good living, too many cocktails and also 27 months spent lugging them around in utero.
One of my readers felt that I had embarrassed my sons but I discussed it with them before posting the shot and they were perfectly happy for me to do so. In my view, J S-P should be ashamed of herself. So, I don't apologise for the picture and I encourage all of you to stop maligning the wonderful bodies that carry you through your lives.
Right, I'll get down off my soapbox. One last bit of good news I have to share with you is that my eldest did brilliantly in his A-Levels and got into his first choice of university. Phew – I'm so proud of him but brace yourselves for the journey as I prepare to watch him go!
Plus there is an upside to the fact that I didn't buy any new clothes for my holiday. It means it's time for a big wardrobe refresh. I'm going to be looking at all the new styles and colours on Midlifechic over the next few weeks and working out which clothes I need to say goodbye to and what the updated additions should be for a whole new season. It's lovely to be blogging again, do take a minute to say hello in the comments so that I know you're all still there.