Everyone I speak to seems to have had 'one of those weeks.' It makes you wonder whether all the media hype about Blue Monday brings it to fruition. I knew it was coming but my work week has been tougher than I anticipated. We have a number of big exhibitions and launches coming up on top of our usual workload and these are the times when I really miss my days of working for big corporations with large teams. As Head of Creative and Marketing I need to keep on top of the status of all the projects in my team as well as my own work and this is really challenging in a 3 day week.
I've been feeling as though none of my plates are spinning but are actually a deep pile of smashed rubble around my ankles. I don't feel as though I'm doing anything well. To compound it all, both boys have had really nasty viruses which has taken me back to the land of broken nights and the horrendous guilt of walking out of the door when I know I'm the person they most want to be at home with them.
Some of my colleagues read my blog and have been giving me a gentle dig asking how project happier is going – it is obviously visible that my inner joy has deserted me! So, my 3 working days are turning into 5 plus days as I work through the weekend whilst trying to look after a 12 year old who just isn't getting any better.
Project Happier
I know you'll understand when I say my focus is more on survival than happier this week although I do have one more nugget to share with you about forming good habits. I had another lightbulb moment when Gretchen Rubin was talking about the challenges that our attitude to feeling deprived can throw up. She divides people into two types, abstainers and moderators. Abstainers are people with huge willpower who can just decide to stop eating cake or drinking wine if they choose to. What they can't achieve is self-limitation, so they can't tell themselves to eat 3 squares of chocolate and then save the rest for another day, they are all or nothing people.
Moderators on the other hand, are people who can't cope with feeling deprived and so often find they give up on what they are trying to achieve. If they are told they can't have any chocolate, the chocolate will become an obsession in their minds until they have some. However if they are told they can have a few squares if they save it until the end of the day they will manage fine.
This explains lots of things to me. Mr MC is an abstainer whereas I am a moderator. I love baking but I very rarely do it because he likes us to eat the whole cake in one sitting, he can't stand the thought of just having a single slice. I love this 'live for today' side of him but I would much prefer to savour the cake little by little over a few days. It tells me why the Slimming World style of eating works for me – I save my 'syns' for the end of the day which stops me being tempted by anything else.
Knowing whether you are an abstainer or a moderator will help you to develop good habits. You can work out whether you need to take an 'all or nothing' angle or an 'everything in moderation' approach. It doesn't have to be food and drink, it can apply just as well to shopping, exercise or anything else you find challenging.
New season clothes – Next
So, moving onto new season buys from Next, Boden and Jaeger. Last week I was talking about the Stan Smiths I ordered and in the comments, Michelle mentioned some slouch trousers that she'd seen at Next. Now as luck would have it I answered the door when the Next Directory came – usually Mr MC gets there first and refuses to accept it because he is sickened by the sheer size of it.
It is pretty obscene this time, it weighs 8kg, as much as one of my kettle bells. I often find that Next tend to over embellish things with a detail too many such as the great chambray shirts that come with a sewn on scarf or lovely linen t-shirts that then have a fussy neckline. However every season there are also a few gems which look and feel as though they have come from a retailer that charges three times as much. I've been through the 948(!) pages and picked out what I think are the winners.
Starting with Michelle's suggestion, the slouch trousers worn with a ribbed cotton jumper. This is Next's shot of a lovely 20 year old model rocking the look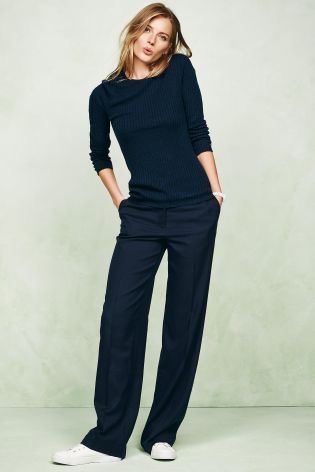 …and this is what they look like in real life
Rib crew sweater; navy slouch trousers; Stan Smiths with silver metallic detail
They don't look as good of course but I give top marks for both items. The trousers are a polyester viscose mix which is incredibly soft, drapes well and feels expensive. The jumper is definitely a light spring weight but again it is really well made. I like the details of the buttons on the cuffs which feel very Gallic and it is fitted but doesn't cling. It also comes in black, orange and bright pink. The trousers arrived quickly even though they said there would be a 3 week wait, if you want to try them I suggest you order soon, they're going to sell out like the denim tapered crops did last February.
I thought it would be interesting to see how they looked with heels but I'm not as keen, it takes me back to about 2004 and feels frumpy. Maybe it will be different in spring when wide trousers are going to be seen around a lot more.
These are the other pieces that I thought stood out.
Draped blouse – this would look great with skinny jeans
Sleeveless drape top which is very like the one I bought from The White Company (but a third of the price) and wore to a party a couple of weeks ago below (still ruing those shoes by the way). Also available in black, taupe and orange.
Tapered leg trousers for those who are finding the transition from skinnies alarming.
Indigo dress – another simple French style piece for summer.
The best of Next always sells out early so it really is worth looking through because the good clothing is always such great value.
Boden's final clearance
I'm sure you know that Boden sent their final reduction on clearance live today with a further 10% off. This is usually their last stand and prices often go up again afterwards. The email came in as I was sitting on the sofa mopping the youngest's poor fevered brow and this is what I have ordered
Thelma heels, now a great price and lovely for summer, as you can tell I'm thinking ahead.
Rosalyn top, I have this in pink and it dresses up skinny jeans beautifully.
Alexa jumper – I already have this in camel and grey and I've worn them both a lot. They hang well and give cashmere a run for its money.
Loose trouser – now that I'm doing Power Yoga as well as Pilates these will come in handy although I suspect I may wear them more for mooching.
I also finally got out of my grump with the new collection and ordered this top. The shoulders continue to be the erogenous zone for this summer and this looks easier to pull off than a full cold shoulder top. It should also be good on the clavicles which is another area that doesn't really age so a strong point for women over 40. The ruching on the tummy is bound to be popular and I notice that it is already showing low stock.
Finally I've been continuing my now 5 year search for a good Crombie style coat and I ordered this one which was half price in the Jaeger sale. the quality is lovely, I still need to decide if it's 'the one.' After dedicating myself to finding a straight cut I'm wondering if it makes me look thick around the middle – let me know what you think.
Jaeger charcoal grey cashmere and wool boyfriend coat; H&M funnel neck jumper; Boden high rise super skinny jeans; M&S ankle boots
Leaving you with our little taste of snow last weekend, not very thick but good enough for a great snowball fight. This was a few hours before my poor little chap succumbed to his virus which has now weirdly gone from his larynx and pharynx into his gums where his premolars are pushing through. His mouth and throat are horribly inflamed, he hasn't been able to go to school or even eat for nearly a week but is doing his best to stay cheerful. I really hope he gets better soon.
TK Maxx Bobble hat; Boden scarf; IDLF @ Uniqlo heat tech coat; Hunter socks and wellies
Assuming I can get away from work, I have a good week ahead with meetings in London for both my day job and then Midlifechic. On Thursday I will be meeting Sarah, a Midlifechic reader who got in touch and invited me to try something new so keep an eye on Instagram and I'll let you know what's happening. And finally thank you for your comments, it's been a really tough week and my daily heart lift has been logging on to Midlifechic during my half hour lunch break to see what you're all chatting about – there are days when you ladies are the ones who keep me sane! Keep in touch.