Ok, so following on from yesterday's post about core chic, let's identify the chic basics you need as workhorses to form your casual weekend wardrobe. This little group should take you through Spring and early Autumn. Bear in mind we're looking at absolute essentials here – the fashionable pieces will be added in a later post. Here are some Pinterest pics to show you what we're aiming for – it's basically a European version of preppy. For more inspiration see my casual chic board on Pinterest.
(All images from Pinterest)
Chic basics – outerwear
1 x trench
2 x blazers (navy and either grey or camel)
Here are the best I've found if you have a wardrobe gap.
Trenches
This is my favourite for being a great quality, timeless trench – the Saskia from Hobbs, £189 – it also comes in a slightly lighter colourway.
Banana Republic also do great chic basics – their 'new classic trench' is currently reduced from £125 to £99
Gap's trench is also really good this season – in the sale as we're moving into summer so be quick: Classic Trench £64.95 reduced to £48.71.
Blazers
Having just trawled the high street for the perfect blazer, I'm going to be quite prescriptive here. You need something that fits well and has some structure. A shade a fraction lighter than navy tends to be more flattering for most skins and a textured fabric adds interest. Jersey or ponte fabrics are more casual and move well with the body. If you've been reading my other posts, you'll know my nomination for the season is the Lena by Whistles, available in french navy, grey or natural for £95.
Another great looking blazer is Me & Em's classic blazer available in navy or black, £148.
Chic basics – jeans
1 x slim/skinny dark
1 x slim/skinny light
1 x boyfriend (NB distressed boyfriends whilst cool are not chic. If you're over 40 and have an edgy look then you'll look great. If not, there's the risk of a whiff of mutton)
Now jeans are really personal and I notice that every blogger has their favourite. Top of the charts tend to be:
Topshop Baxter £40 – loads of different dyes and washes to choose from. I haven't tried these so can't give an opinion, I just know they're popular.
Gap Always Skinny£44.95 down to £31.47 at the moment. I wish these worked for me but they just don't – somehow they make my hips look huge. Loads of people love them though.
Next relaxed skinny £26 – my personal favourites, I just wish they came in more shades and colours.
Really with jeans you have to put the effort into trawling and trying loads. I know – we all hate it – it's like trying to find the Holy Grail but it's really important to find a style that suits you well because once you have them, you've solved about 50% of your wardrobe needs.
Chic basics – long sleeved t-shirts
3 x white
3 x accent colours
2 x bretons
Now for me nobody can beat Jigsaw for these: double front scoop t-shirt £35. The fact that they're double fronted gives you a really clean line. They're fitted but again, the double layer means that it conceals lumps and bumps and the scoop neck is cut to perfection to show off the clavicles at their most flattering. They last for ages and they do them every season in different colours. You can't see how good they are from the picture but there is no other chic basic long sleeve t-shirt in my book.
Bretons
Boden (currently £22.50) are good although you often need to size down as they can be a bit teabaggy if you aren't careful.
Petit Bateau's Marinieres are pricey but the real thing. Starting at £50 they come in different jersey weights, are beautifully structured and come with a very chic, slightly A-line cut ending in side splits. Be careful which neckline you choose though – the boat neck is more flattering than the crew.
Last point – keep your eyes peeled when you're shopping in Sainsbury's – they haven't got any at the moment but they often do great Bretons for £12.
Chic basics – shirts
2 x white (1 with double cuffs – investment pieces, go for good quality cotton )
1 x denim
1 x chambray
Finding a great white shirt is a bit like looking for jeans. Once you get it right, it will transform your wardrobe. You need to look for a brand that understands tailoring. Shirts are annoying when they aren't long enough to either tuck in (and stay tucked in) or wear casually with the tails exposed under a jumper. They need to be made of good quality cotton so that they can be ironed to perfection without too much trouble after washing. The collar needs to be good so that it stays stiff and flatters your neck. Long cuffs flatter your wrists and double cuffs, often known as cocktail cuffs, add panache.
My recommendation would be to go for a city shirtmaker. For double cuffs try TM Lewin's fitted white poplin shirt £29.95 0r £25 each for 2 – they also have a herringbone texture for added detail. Bear in mind that double cuffs look great but can be a nuisance – they pick up dirt and need extra ironing.
For deep cuffs try Thomas Pink's Megan £89 which has added stretch and real mother of pearl buttons.
Or (bear with me on this one), Betty Barclay's classic blouse £45. I know it's a bit of an elderly brand but the coolest buyers at Selfridges always swore by it – and so does Avril at Schoolgatestyle. It's always in stock, never changes, has brilliant cuffs, is crisp but easy to care for and is often in the sale.
Denim shirts
For this look, a slightly more fitted denim shirt looks better than a boyfriend style. Think about the shade of jeans you're going to be wearing it with to avoid too much of a double denim hit.
Zara is probably the best, £29.99
or Uniqlo, £19.90
I got this one from Gap a couple of weeks ago for £12.50 but it seems to be £24.99 online now – try in store.
Chambray shirts
These are so close to a denim shirt and yet they give a softer, more feminine look. Boden and Joules have good ones but they both have the irritating contrast cuffs and collars that clash with scarves and necklaces.
This is pretty much the perfect example but it's £140 by APC from Liberty
Otherwise I've found
Topshop £32
and slightly darker, Uniqlo £19.90
Chic basics – knitwear
3 x crew or v neck jumpers (easy-care cashmere if you can stretch to it)
2 x fitted crew neck cardigans (these are difficult items to get right – you need to be able to cinch a waist to create definition)
To my mind you can't beat Boden for cashmere that is great quality, washes well and comes in fabulous colours. As long as the moths don't get to it, it lasts for ages. I try to buy two pieces a year. The crews are classic, the v-necks slightly slouchier for a more relaxed feel. Full price they're £99 but you can always find an offer.
Alternatively try Pure, a lovely ethical British company based in Harrogate. Their jumpers are also £99 but they don't have as many discounts. As you can see, their styles are looser at the bottom, they don't have the deep rib of the Boden jumpers.
If cashmere's not your thing, John Lewis and M&S both do brilliant versions in lambswool which has a similar luxurious textured effect to cashmere but for half the price. Neither retailer has any in at the moment (March 2014) because they're launching summer I suppose.
For cardigans I'd take the same journey as jumpers but think about the style. Boyfriend styles are much more dressed down than crew necks, v necks can cause disruption with the neckline you have on underneath.
 Chic basics – footwear
1 x loafers (navy, black or tan)
1 x low heeled pumps / pointed courts (navy or tan)
4 x ballet pumps in accent colours
Loafers
Now within loafers I'm including penny loafers, driving shoes, slipper shoes and pointed loafers but not skater shoes, Converse or trainers. I like skaters, Converse and trainers but I'm being strict with this post and, like distressed boyfriend jeans, they're more in the cool camp than chic.
There are so many loafers out there. I have a whole pinterest board dedicated to them. I love them, my husband hates them, I don't know why. My picks:
Hobbs Wynne Loafer £169 – they have that heavy, expensive preppy look
Boden penny loafers currently £79.20
Boden pointed pump £99 (currently £79.20 have just ordered these, will let you know how they are)
Office have loads of great loafers in classic and bright colours at reasonable prices, thought I'd pop these in – Extravaganza £65  because I'm starting to lose the will to live – need a coffee!
 Low heeled pumps
Ok, I'm back, reinvigorated  by a latte on the beach – sounds like something you'd get in Magaluf.
The point of low heeled pumps is to add elegance to a casual wardrobe but you need to be able to walk in them. I've just bought these sixties heels from Boden in tan (were £99, £59.40 until Sunday) and they're great. They look better with trousers than skirts because of the straight across front but they transform jeans in an instant enabling me to feel smart if I suddenly have to pop to see a client on a dressed-down day.
These navy suede florisa point toe courts £160 from LK Bennett would do the same job.
I think it's worth investing here because if you're wearing heels all day, they need to be comfortable although… M&S insolia are as comfortable as they say they are. I have these leopard ones, £17.50 and I can wear them all night if we go out for drinks.
It's beginning to feel as though patent has had its day – is anyone else yearning to get back to polished leather and suede?
Ballet pumps
These have been wardrobe staples since 2004 and show no sign of disappearing. You don't need me to tell you where to get them , they're everywhere and prices vary from £20 upwards. Personally I prefer them without bows at the front but over to you.
Chic basics – jewellery
3 x statement necklaces for wearing with long sleeve t-shirts
2 x clavicle length necklaces for wearing inside shirt collars
2 x long necklaces for wearing with knitwear
Statement necklaces
As everyone knows, Zara is the leader in statement necklaces at the moment. Every week lovely new examples arrive, these are all £29.99:
However, if you want to achieve the same effect but spend a little less I have two great tips for you:
Schoolgatestyle – Avril sometimes gets the same pieces as Zara but sells them for significantly less, she also has a fantastic range of her own and because she doesn't have the overheads of a big retailer, her prices are great. I have a few of her necklaces so can vouch for their quality. Here are a few of my current favourites:
Flower statement necklace £22 – sold in Zara for £30
A piece that won't date: Grey faceted flower necklace £15
Alice's Wonders also sells statement necklaces at amazing prices:
Navy and pink fan necklace £10
Blue and green vintage necklace £10
 Chunky twisted pearls, £15.40, Etsy, not so keen on the earrings though.
Classic clavicle necklaces
If you want to make the most of an open necked shirt, you need to see the gleam of a clavicle length necklace. Simplicity works best here:
Brushed silver collar necklace, Schoolgatestyle £15
Black ribbon necklace, Alice's Wonders £9 (very Anna Wintour)
Necklace with metallic flowers £29.99, Zara
Long necklaces
If you have a jumper with a roll neck, or you're looking for a casual alternative to a statement necklace, long necklaces are great. For me, White Company has always been the master of these but they don't have a wide selection at the moment;
Silver plated pebble heart £70 but you'll wear it forever
Chic basics – scarves
Go wild – they make all the difference to these simple, chic looks. You need at least 10 of differing weights, lengths and shapes. For me, they're often wildly overpriced and the place where retailers make a margin they don't deserve, after all on the high street they're often just a hemmed piece of cloth. If you don't want to spend a fortune, blogger shops can be a great place to go to. Try Schoolgatestyle and Avenue 57 – here's a selection:
Red / Navy leopard print, Schoolgatestyle £15. I have this scarf, I love it as much as many of my more expensive ones, everyone comments on it.
Snakeskin green, £10
Fuchsia print scarf Avenue 57, £10 – great colours for summer
Red stripe zigzag scarf, £10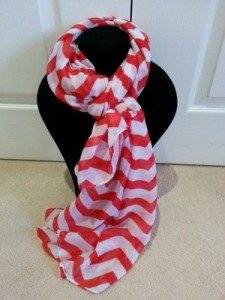 Phew – this post has taken me all day to put together but I hope it's helped anyone out there who is looking for the basic ingredients for a spring shopping list. Please let me know if it has by leaving a comment below – I need to know if I'm on the right track!